One of the latest trends in makeup is colour changing makeup. Sounds super modern and cool, well lets see. Barry M is one of these brands to jump on the bandwagon. They have just released a third colour changing lipstick in yellow to add to their collection. There are now 3 lipsticks in this collection, green, blue and yellow. What these lipsticks do it they turn the shade into a personalised shade of pink, making your lips unique:) Lets see if that claim is true…
How Does it Work?
Barry M claims the lipstick reacts to the alkaline in your lips to turn your it into a perfect personalised shade of pink. Truly sounds like magic. However, due to my amazing nature of being a sceptic, I decided to dip a bit deeper. Turns out that there's no magic involved but more like an ingredient that makes the lipstick remain colourless until its exposed to moisture. This ingredient is called Red 27/CI 45410. (This ingredient is safe and has been approved by the FDA to use in cosmetics apart from eye cosmetics.)
Does this mean they're straight out tricking people into thinking this is the answer to achieving the perfect shade of lips? No, its not so simple. Whilst the claims aren't totally true, there is some truth to it. Red 27 is effected by pH levels, meaning that the pH level on your lips will effect the shade of the colour. However, the main change in colour is due to the chemicals exposure to water, not your pH level. You can test this out yourself but rubbing the lipstick onto some tissue or paper, then add some water and you'll see the lipstick will still turn pink without your pH level getting involved.
Now that we got it clear that its no magic lets see if its any good.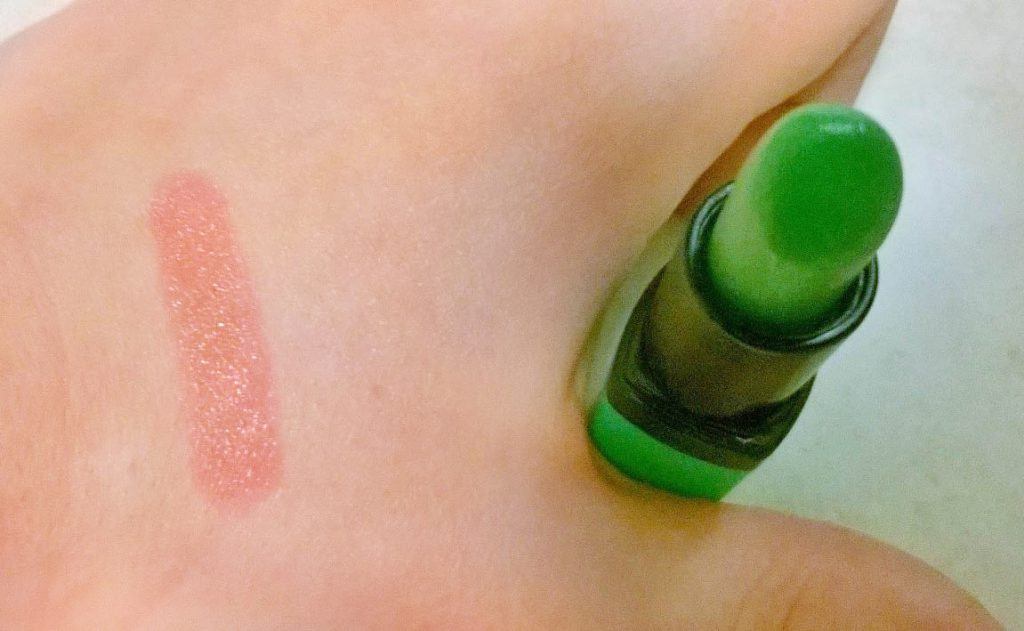 Barry M Colour Changing Lipstick
Barry M colour changing lipstick has 3 different colours. Yellow- Unicorn, Blue- Neptune and Green- Genie. They are all cruelty free. Each one is a  lovely shades of pink that look slightly different on each person due to different colour skin tones. Neptune is the darkest, Unicorn more of a fuschia pink and
Genie a lighter, more pale pink. The packaging is really cute – the lid is the colour of
pink that the lipstick turns into. I love that feature:)
One thing that everyone said about all of these lipsticks is that they last a really long time. Barry M claim they last 8 hours which is a claim that they got right! The lipsticks don't budge after you've applied them. Also for a budget lipstick, it is very moisturising and doesn't dry out the lips at all. This isn't so common in budget lipstick so I have to say I'm impressed.
Conclusion
Whilst the claim that its magic and that it changes colours according to the person isn't completely honest, I still find these to be good lipsticks. Honestly, I'm not so fond of brands that distort the truth but lets be fair, most brands do it to some degree. Obviously, they're in it for themselves and their sale figures. That's where us beauty bloggers come it to save the day- to dig out the truth! They are not the first brand to do this and I'm sure, not the last. There's, Dior Addict Lip Glow Color Reviver Balm, Smashbox's O-Gloss Intuitive Lip Gloss, Sephora Collection Color Reveal Lip Balm – to mention a few.
With all that said and done these colour changing lipsticks are still really good and you gotta love them. They last long, don't dry out the lips and honestly they look super cool! If you're looking to have some fun or you like gimmicky products then I definitely recommend these lipsticks. For the price of £4.99 its very good value for money. You can buy them from asos.com which I have linked below- they have free international shipping  so go and order them now!
Click here to buy Barry M Colour Changing Lipstick in Unicorn
Click here to buy Barry M Colour Changing Lipstick in Genie
Click here to buy Barry M Colour Changing Lipstick in Neptune
Please share your thoughts and experiences in the comments below- I'd love to hear from you:)
Related Posts