If you've never used liquid blush before‭, ‬what are you waiting for‭? ‬NARS have just released 4‭ ‬new liquid blushes in absolutely divine colours‭‭. ‬I'll be very honest with you‭, ‬I was never such a fan of liquid‭ ‬blush‭. ‬However‭, ‬after checking out these liquid blushes my mind sure has changed, and I'm sure yours will too after reading this NARS Liquid Blush Review‭.‬
​
What are the Blushes?
NARS liquid blush comes in four beautiful‭, ‬highly pigmented colours‭:
Dolce Vita‭- ‬matte dusty rose‭
‬Luster‭- ‬sheer golden apricot‭
Orgasm‭- ‬sheer warm pink with golden shimmer
Torrid‭– ‬warm coral with golden shimmer‭
They each come in an individual glass bottle containing 1.5oz. One of my favourite features is that the bottles come with a pump which is the best way for all liquid makeup. You know when your favourite makeup has a rubbish packaging? It kind of ruins the whole product, don't you think? So yes, the packaging is a very important feature and the NARS liquid blush has scored well with that.
Honestly, I was surprised by how intense the colour is from one pump, its more than enough for the perfect natural look. Even though the bottle may look small to you, it goes a very long way due to each drop containing so much pigment. The consistency is a little runny so it may take time getting used to it. They are also very build able, go on super smoothly and blend really easily. You can blend with your fingers or if you're like me, and you don't like getting your hands dirty you can use a stippling brush which does the job beautifully. The liquid blush has a dewy, satin look to it and makes your skin feel really soft. It contain Monoi and Tamanu oils which gives it the added moisture. Each of the liquid foundations has a matching powder blush.
I'll go through each lipstick further on in the article.
Why Liquid Blush 
The type of blush you choose, be it powder, cream or liquid really depends on your skin type and what you are trying to achieve. The general rule is that powder is for oily skin and cream or liquid is for dry and mature skin. This is because powder tends to dry out the oil from the skin whereas, cream and liquid blush moisturise the skin. Cream and liquid blush also make the skin look younger and they are more natural looking. Another difference between powder and liquid is that liquid is more build able and you have more control over the intensity of the colour. This means you never have to worry about clown cheeks. The finish is also different. Powder blush gives a matte finish whereas, liquid blush has more of a dewy finish. Another big factor than can effect your choice is that powder tends to last longer than liquid.
So there are many differences between the different types. If you can't decide which suits you best, an amazing hack is to use two. Start with liquid or cream and put some powder on top. This way you get the best of both looks:)
Orgasm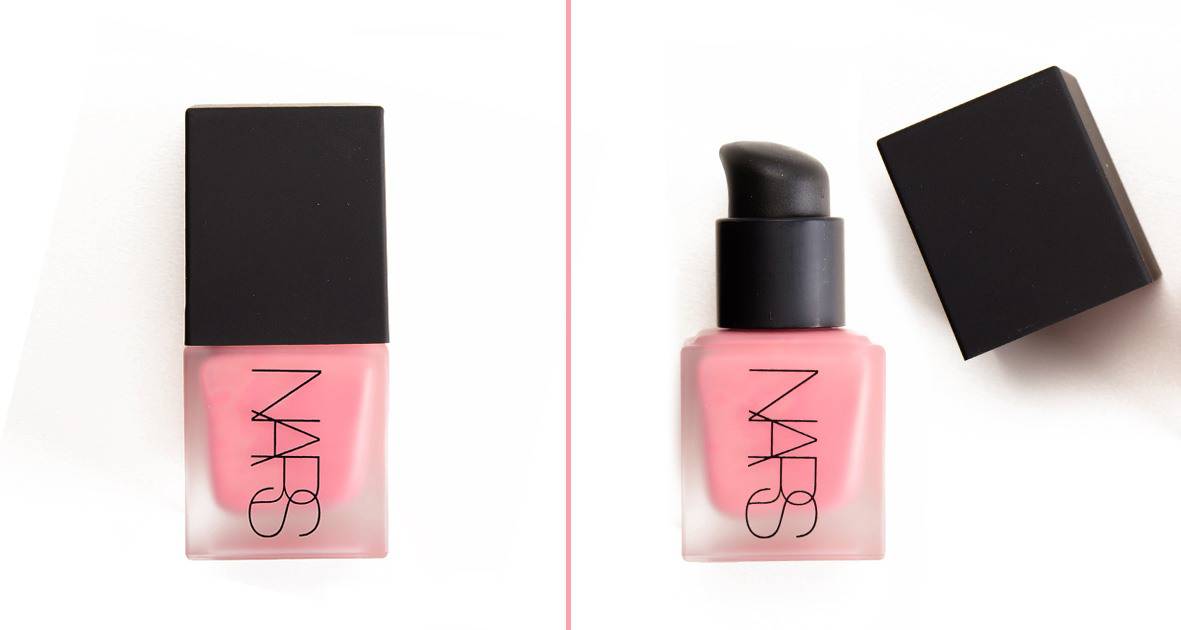 Of all the four blushes this is probably the most popular. People literally cannot stop talking about it. It is part of the orgasm collection and the colour is based on the powder orgasm blush. The collection also comes with a illuminators, lip glosses and a lipstick. All the products of this collection have a beautiful golden shimmer. Perfect for these summer months when you're after that summer touch.
Orgasm is a pinkish colour with a beautiful peachy glow to it, which complements my fair skin perfectly. It has warm, yellow undertones and quite a strong shimmer, so be aware of that. It has a semi-sheer to semi-opaque pigmentation.
Luster
Orgasm and Luster are the colours that suit me the best, the other two are too dark for me. Luster is a peachy orange colour with warm undertones. It has a semi-sheer to medium pigmentation. The liquid blush has less of a shimmer than its matching powder blush.
Torrid
Torrid is a medium orange colour with warm undertones and a touch of pink to it. It has a semi-sheer to almost opaque pigmentation. The powder blush has more of a shimmer than the liquid one.
Dolce Vita
This is the darkest colour of the liquid blushers with a darkish pink colour, warm undertones and a slight shimmer. It has a semi-sheer to opaque pigmentation. Dolce Vita is way to dark for me, when I tried it I resembled a clown.  However, if you have the right skin tone this is a beautiful colour.
My thoughts
One of the things that makes these liquid blushers better than any others I have come across, is that they are really long-lasting. This is rather unique with liquid blush. One of the biggest selling points for me is how easy it is to blend the edges. There is no visible line separating your blush from your skin, its blends seamlessly. A tip for applying the liquid blush is to apply a thin layer, wait for it to dry and then see if you need more. It applies much better with one thin layer at a time.
The NARS liquid blush are definitely a winner. The colours are all highly pigmented, very easy to apply, last about 8 hours and I love the packaging. Altogether very high quality which is something I've come to expect from NARS;)
Click here to buy NARS Liquid Blush from ASOS