Having the right tools in life is only half the trick to getting the perfect results. Without good tweezers, well, having good brows sure will be hard to achieve. I usually get my eyebrows threaded about once a month, but there are always those cheeky hairs that need plucking in between visits. For this, my dears, we need good tweezers. I have put together a few of the best tweezers for eyebrows that are on the market at the moment. Between these tweezers that I have written about, you will surely find the perfect one for you.
Anastasia Beverly Hills 

Precision Tweezers
This is a stainless steel tweezer with a slanted top and calibrated tension so that you can pick up even the smallest hairs. What I love about these tweezers is that they really do pick up every hair. However, the downside to that is that they are very sharp so you have to be extra careful around sensitive and delicate areas. This makes them not so great for a rushed tweeze. It is made from the highest quality materials so that it stays sharp for a long time and lasts well. The only other downside is that at $28 it is very expensive for a pair of tweezers. However, users say once they have used this there's no going back:)
Click here to buy Anastasia Beverly Hills Precision Tweezers for $30.10 / £23.10
Tweezerman 

Pink Perfection Pointed Slant Tweezer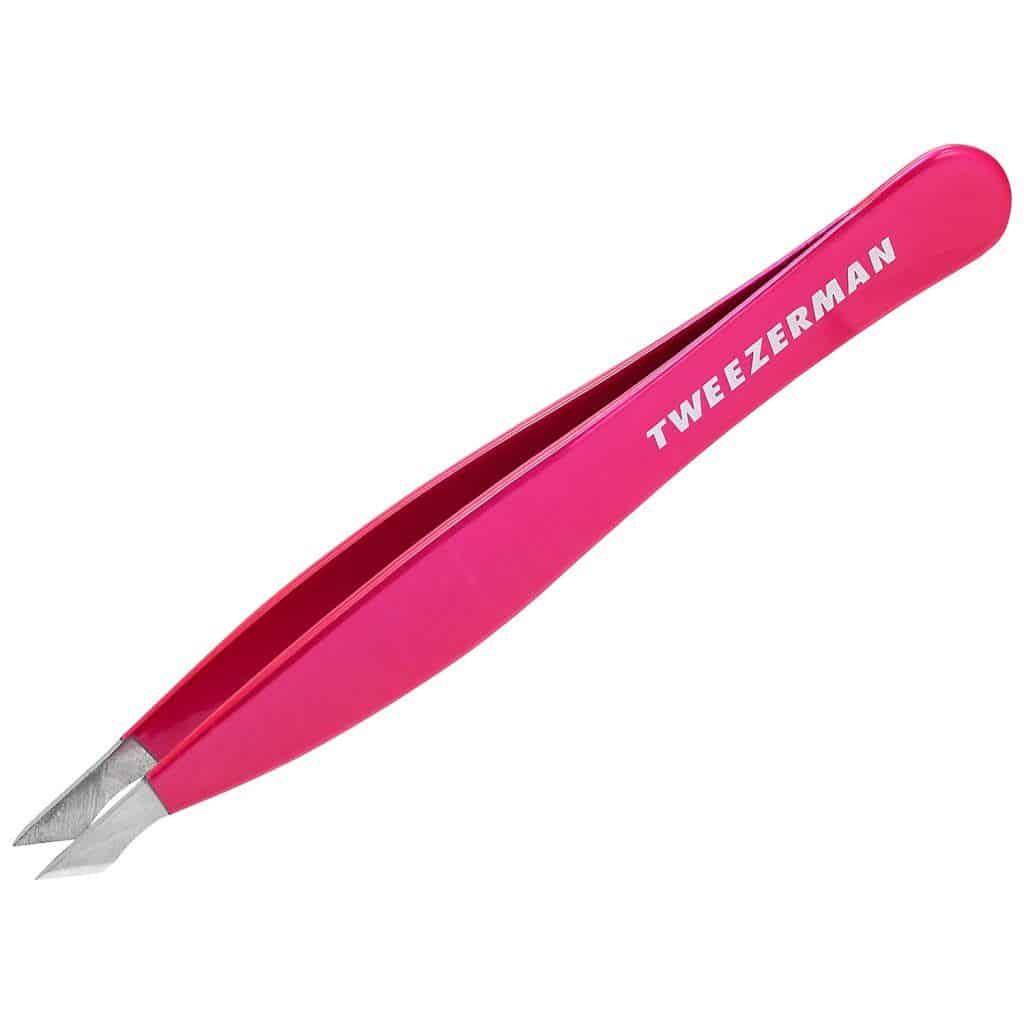 This is an all-in-one tweezer for brow shaping, general tweezing and precision work. The unique feature of the tweezers is that there is a 45 degree tip which is designed to catch every hair. Which is exactly what it does. Every hair including any deep ones and hairs that you don't even realise are there. It doesn't break the hairs, it gets them right from the root. Tweezerman have a bunch of different tweezers and the truth is they are all do an amazing job. They are definitely the king of tweezers. And when you can get a pair in pink, well, it always adds a few points:) The only downside would be the price. $25 for a pair of tweezers is expensive, however, most agree that it is totally worth the price.
Click here to buy Tweezerman Pink Perfection Slant Tweezers for $25.00
SEPHORA COLLECTION 

Strays Away Set of 4 Mini Tweezers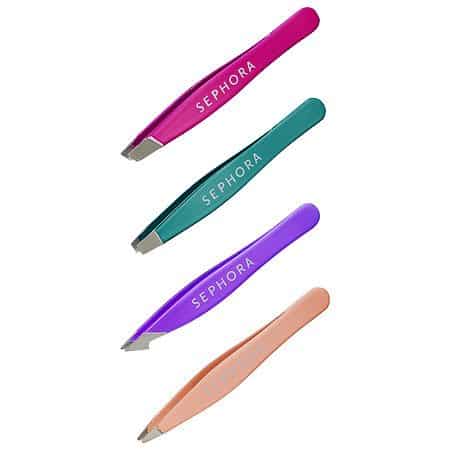 These are the cutest tweezers around. I didn't know that tweezers can be cute but after coming across these I guess anything is possible! These 4 cute coloured mini tweezers come in a set. Each one has a different tip for different applications. This set contains an angled-tip tweezer, a flat-tip tweezer, a pointed-tip tweezer and a slanted-point tweezer.  The angled-tip is perfect for brow and chin hairs, the flat-tip is for thick and short-hairs. The pointed-tip gives you the precision needed for ingrown hairs and hairs that are hard to reach. The slanted-tip has a point and a flat part to it making it perfect for precision and pressure. If you had to chose one out of all on them, it would be the slanted one since its the most useful.
This set of tweezers is perfect for traveling with as they are small, yet so useful. They are really easy to use, and what's interesting is that a lot of users have said they prefer these smaller tweezers to regular sized ones because they find, they have a better grip. They are made from stainless steel and have a high-quality feel to them. What's more is that the price is amazing too. $10 for a set of 4 amazing tweezers. I call that a bargain:)
Click here to buy Sephora Collection Strays Away Set of 4 Mini Tweezers for $10.00 
Bobbi Brown Tweezers
People call these the Rolls Royce of tweezers and not just because they're expensive. It was crafted by Rubis of Switzerland who are known to be a cut above the rest when it comes to tweezers. The tip of the tweezer is really sharp and naturally, gets every hair out. The tip comes with a cap to protect it (and I guess to protect your fingers too!) so that it should remain sharp. This is a nice and useful feature and it shows every thought went into producing these tweezers to be perfect. The biggest selling point for these tweezers is how precise they are. They literally get every hair not matter how fine. However, they come at a price of $30 which is is very expensive.
Click here to buy Bobbi Brown Tweezers for £25.00 / $50.00 
Bourjois Tweezers Pink
These tweezers look a little similar to the Tweezerman Pink Perfection tweezers. Lets see if they're as alike in quality. It come with a slanted tip designed to get every hair and most people say that this really works for them. Also I love the colours- pretty tools are always more fun to use. If you're looking for a cheap pair of tweezers that do everything they say this is the pair. Although since they are so cheap be aware they may not last as long as some of the pricier tweezers. However, it is great value for money, precise, grip well, easy to use and pretty:) It is for sure the best tweezers for eyebrows on the budget side of things.
Click here to buy Bourjois Tweezers for £3.49
Revlon Expert Tweezer Slant Tip
Like the name suggests these are expert tweezers. The tweezers are unique in that they have ridges on either side. This helps to have a firm grip. A lot of users have expressed how comfortable it is to use these tweezers because of the ridges. It also has a slanted tip making it easier to remove all hair and and helps with the precision. This is very high quality and it looks professional too. You get high quality tweezers for the price of low quality ones.
Click here to buy Revlon Expert Tweezer Slant Tip for $5.36
Rubis Stainless Steel, Slant Classic Tweezer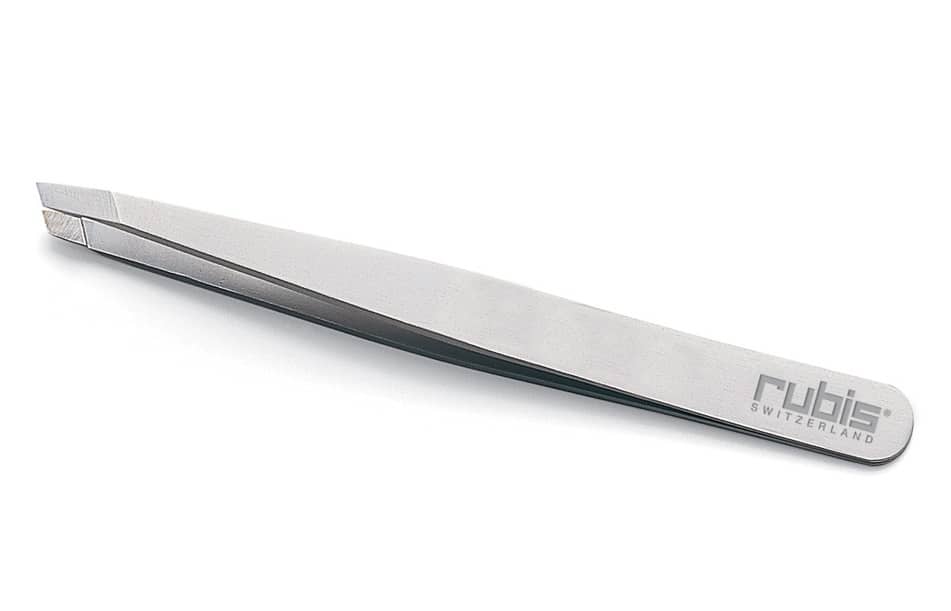 Tweezers like this are very rare. All of the Rubis tweezers and made by hand. Can you imagine? It's a 45-step process to make then which must take a really long time. If you haven't guessed yet where these are made then I'll tell you. Switzerland. Who else would make tweezers my hand if not for the Swiss?! Don't laugh too much because these tweezers are definitely a cut above the rest. They are extremely precise, down to the very last detail. The most important detail to look out for when buying a pair of tweezers is to check the closing tip. The tips have to match precisely and close perfectly for them to work the best. This is what Rubis have accomplished by making each one by hand. They get the perfection. So yes, these are by far the best tweezers for eyebrows that are out there, however, come with a price tag. They are $43.09 for the classic pair- very pricey.
Click here to buy Rubis Stainless Steel Slant Classic Tweezer for $43.09 / £21.50
My Thoughts
That's it for now, or until even better tweezers come on the market. Just kidding;) All of the tweezers that I have mentioned here are amazing tweezers. Like I wrote- they are the best tweezers for eyebrows. Each and every one of them is unique and they each have their own selling point. You have to find the one that works for you, but honestly I don't see how anyone can go wrong with any of these. If you use any of these or if you have different favourite tweezers be sure to let me know in the comments below. I'd love to hear from you:))
I am so excited to have collaborated with Beauty Over Fifty. She's written a great article about Eyebrow Shaping Tools That You Need. It includes all the different tools to make your eyebrow shape perfect and beautiful. Go and check it out:)
Happy 4th of July to all my American readers!
Hollie xx
Related Posts