The Best Tweezers for Eyebrows – Budget and Designer
Having the right tools in life is only half the trick to getting the perfect results! Are you familiar with the expression that bad workers blame their tools?
Well, when it comes to eyebrows, it couldn't be more untrue! Without good tweezers, having good brows is a very hard feat to achieve.
We've put together a few of the best tweezers for eyebrows that are on the market at the moment. Between these tweezers, you will find the perfect one for you. Included are tweezers for all budgets and all hair types!
Disclaimer: As an Amazon Associate I earn from qualifying purchases on Amazon and other affiliate programs. This means on some purchases, I make a commission. It doesn't mean you spend more, it simply allows me to keep this blog going!
One of the hardest things when it comes to picking your eyebrows is getting all the smallest newer hairs. Anastasia Beverly Hills Precision Tweezers are the ideal tool for getting even the smallest of hairs!
This is a stainless steel tweezer with a slanted top and calibrated tension so that you can pick up even the smallest hairs. However, the downside to that is that they are very sharp so you have to be extra careful around sensitive and delicate areas.
This makes them not so great for when you're in a rush, so make sure you have time when using these tweezers. I know, easier said than done!
The tweezers are made from the highest quality materials so that they stay sharp for a long time and last well. The only other downside is that it's rather expensive for a pair of tweezers. However, users say once they have used this there's no going back:)
---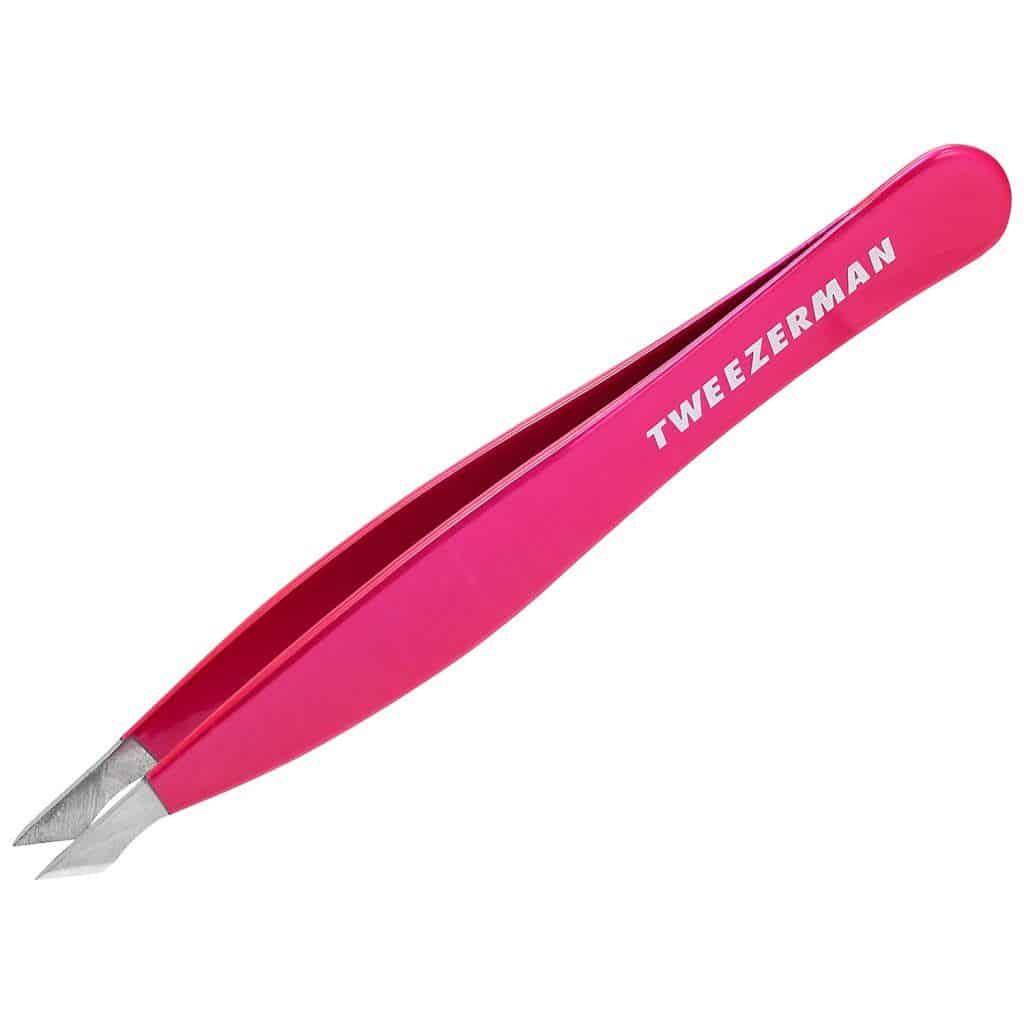 The Tweezerman Pink Perfection Pointed Slant Tweezer is an all-in-one tweezer for brow shaping, general tweezing and precision work. Tweezerman is known to have some of the best tweezers around and this one doesn't disappoint!
The unique feature of the Tweezerman Pink Perfection Pointed Slant Tweezer is that there is a 45-degree tip, it's designed to catch every hair without missing any! Which is exactly what it does.
Every hair including the deep ones and the hairs that you don't even realise are there. It doesn't break the hairs, it gets them right from the root.
Tweezerman has loads of different tweezers and the truth is they all do an amazing job. They are definitely the king of tweezers. And when you can get a pair in pink, well, it always adds a few bonus points:)
The tweezers are on the pricier side, which although annoying, it's to be expected from a pair of designer tweezers.
---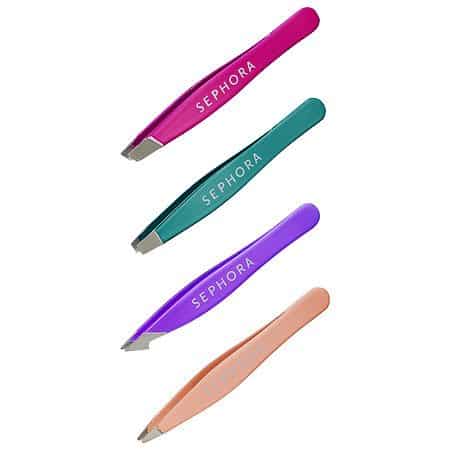 These are some of the cutest tweezers around. I didn't know that tweezers can be cute but after coming across these I guess anything is possible! These 4 cute coloured mini tweezers come in a set with each one having a different tip for different uses.
This set contains an angled-tip tweezer, a flat-tip tweezer, a pointed-tip tweezer and a slanted-point tweezer. The angled tip is perfect for brow and chin hairs, the flat tip is for thick and short hairs. The pointed tip gives you the precision needed for ingrown hairs and hairs that are hard to reach.
The slanted tip has a point and a flat part to it making it perfect for precision and pressure. If I had to choose only one from the 4 of them, it would be the slanted one since it's the most useful.
This set of tweezers is perfect for travelling with as they are small, yet so useful. They are really easy to use, and what's interesting is that a lot of users have said they prefer these smaller tweezers to regular-sized ones because they find that they have a better grip.
These tweezers are made from stainless steel and have a high-quality feel to them. What's more, is that the price is amazing too. $10 for a set of 4 amazing tweezers. I call that a bargain:)
Update: This tweezer set is no longer in stock, check out the mini tweezer set by Tweezerman instead.
---
People call the Bobbi Brown Tweezers the Rolls Royce of tweezers and not just because they're expensive. It was crafted by Rubis of Switzerland who is known to be a cut above the rest when it comes to tweezers.
The tip of the tweezer is really sharp and naturally, gets every hair out! The tip comes with a cap to protect it (and I guess to protect your fingers too!) so that it should remain sharp.
This is a nice and useful feature and it shows every thought that went into producing these tweezers to be perfect. The biggest selling point for these tweezers is how precise they are. They literally get every hair no matter how fine.
However, they are very expensive, but quality often comes at a price as we all know, all too well!
---
The Bourjois Tweezers in Pink look a little similar to the Tweezerman Pink Perfection tweezers. Let's see if they're as good in quality!
These tweezers come with a slanted tip designed to get every hair and people say that this really works for them. Also, I love the colours- pretty tools are always more fun to use.
If you're looking for a cheap pair of tweezers that do everything they claim then, this is the pair you need. Although since they are so cheap be aware they may not last as long as some of the pricier tweezers.
However, it's great value for money, precise, grips well, easy to use and pretty:) The Bourjois Tweezers are for sure one of the best budget tweezers for eyebrows!
---
Have a thing for beauty tools? Check out these weird and wonderful beauty tools that actually work!
Like the name suggests these Revlon tweezers are expert tweezers! The tweezers are unique in that they have ridges on either side. This helps to give you a firm grip making them more comfortable to hold, and also less likely to slip while using.
The tweezers also have a slanted tip making it easier to remove all hair and it helps with the precision too. This is very high quality and it looks professional too.
What you get here is high-quality tweezers for the price of low-quality ones. In other words, a real bargain!
---
The gold of tweezers. Yup, that's Rubis for you! All of the Rubis tweezers and made by hand. Can you imagine?
It's a 45-step process to make then which must take a really long time. If you haven't guessed yet where these are made then I'll tell you. Switzerland.
Who else would make tweezers my hand if not for the Swiss?! Don't laugh too much because these tweezers are definitely a cut above the rest.
They are extremely precise, down to the very last detail. The most important detail to look out for when buying a pair of tweezers is to check the closing tip.
The tips have to match precisely and close perfectly for them to work the best. This is what Rubis has accomplished by making each one by hand. They get perfection to a T. So yes, these are by far the best tweezers for eyebrows that are out there, however, they come with a price tag.
They are extremely pricey so it's really a question of how much you are willing to spend on a pair of tweezers!
My Thoughts
We, women, are always battling our unwanted hair. You can either let your hair grow out and walk around au-natural, or you need to suck it up and deal with it! I prefer the latter;)
Nowadays there are many ways to get beautiful eyebrows, from micro-blading to using the correct tools and eyebrow pencils. It's all about finding what works for you!
All of the tweezers that I have mentioned here are amazing tweezers, especially for those pesky little hairs that are so hard to get!
Each and every one of them is unique and they each have their own selling point. You have to find the one that works for you and your budget, but honestly, you can't go wrong with any of these.
Hollie xx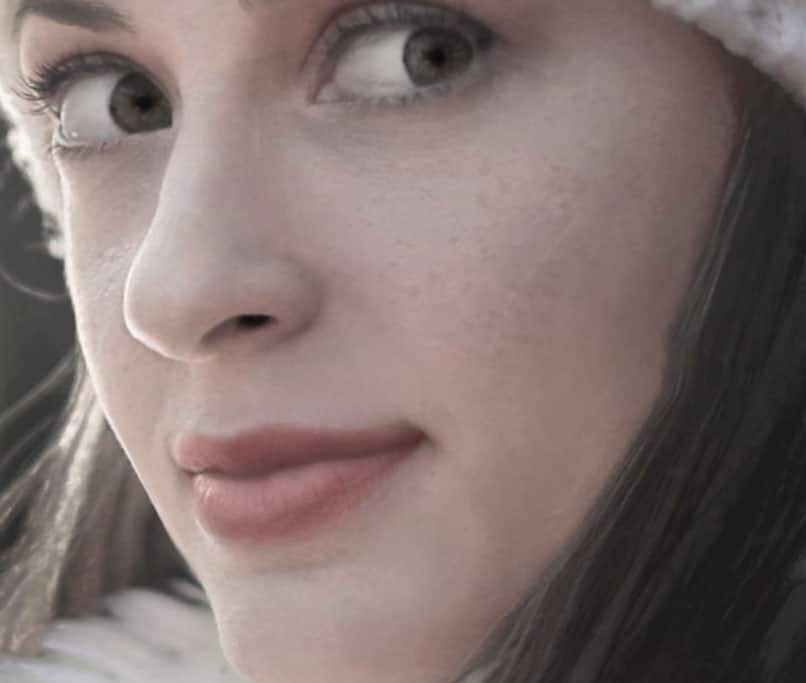 Hi, I'm Hollie, and I own BeautywithHollie.com. I love everything to do with beauty and love sharing my knowledge, advice, and beauty finds! Makeup and beauty are here to enjoy, and Beauty With Hollie is here to take the stress out of it!
---
---
Anastasia Beverly Hills bareMinerals Benefit Cosmetics Bobbi Brown CeraVe Chantecaille Charlotte Tilbury Clarins ColourPop Dermalogica Dior e.l.f. Cosmetics ELEMIS Estée Lauder Fenty Beauty First Aid Beauty Fresh Giorgio Armani Hourglass Jane Iredale L'Oreal Lancome La Roche-Posay Laura Mercier LORAC MAC Makeup Revolution Mario Badescu Maybelline Morphe Nars Natasha Denona Neutrogena NYX Origins Peter Thomas Roth Revlon Sigma Beauty Smashbox Stila Tarte Cosmetics The Ordinary Too Faced Urban Decay YSL
---