Tarte Shape Tape Concealer- The Best Full Coverage Concealer
When you hear of Tarte Cosmetics, chances are the first product that will come to mind is their concealer. Tarte Shape Tape Concealer is America's number 1 best selling concealer and it's pretty popular here in the UK.
Once you have used the concealer you will understand what all the hype is about! It does everything a good concealer should do, plus more.
Disclaimer: As an Amazon Associate I earn from qualifying purchases on Amazon and other affiliate programs. This means on some purchases, I make a commission. It doesn't mean you spend more, it simply allows me to keep this blog going!
For me, the most important feature of concealer is the coverage. I need a concealer that covers everything and really well too. I have really bad dark circles under my eyes, worse than most people. (Although I'm sure I'm not alone in saying that!) Nevertheless, my under eyes are all colours of the rainbow and on top of that, I often get breakouts. I may be 31, but for some odd reason, my skin hasn't got the memo that I'm no longer a teen!
Applying the concealer couldn't be easier. It comes with an extra-large doe foot applicator. The size reminds me of the Makeup Revolution Conceal and Define applicator. I guess a bigger applicator is easier to apply with, I never really thought about it before! Either way, it applies beautifully. After applying the concealer in a triangular shape under my eye, I took my damp beauty blender and softly dabbed it out. This concealer covers everything! With the Tarte Shape Tape Concealer, you will not need to worry about coverage.
From breakouts and blemishes to dark circles under your eyes, it has you covered. After applying one layer of the concealer all of my bags were covered. Like totally and completely covered. It is one of the best full coverage concealers around. I would say the best but honestly, I haven't yet tried every concealer on the market! One day…maybe.
A common occurrence with full coverage concealers is that they tend to be very thick in texture and often hard to blend properly. With the Shape Tape Concealer, you won't experience that at all.
Whilst the texture is slightly thicker than a lightweight concealer, it isn't too thick to blend. It actually blends so easily and smoothly, it literally just melts on the skin. What's more, is that you won't have to worry about creasing either. Let's be honest, how many full coverage concealers do you know that don't cause some creasing under the eye? I'm positive not too many.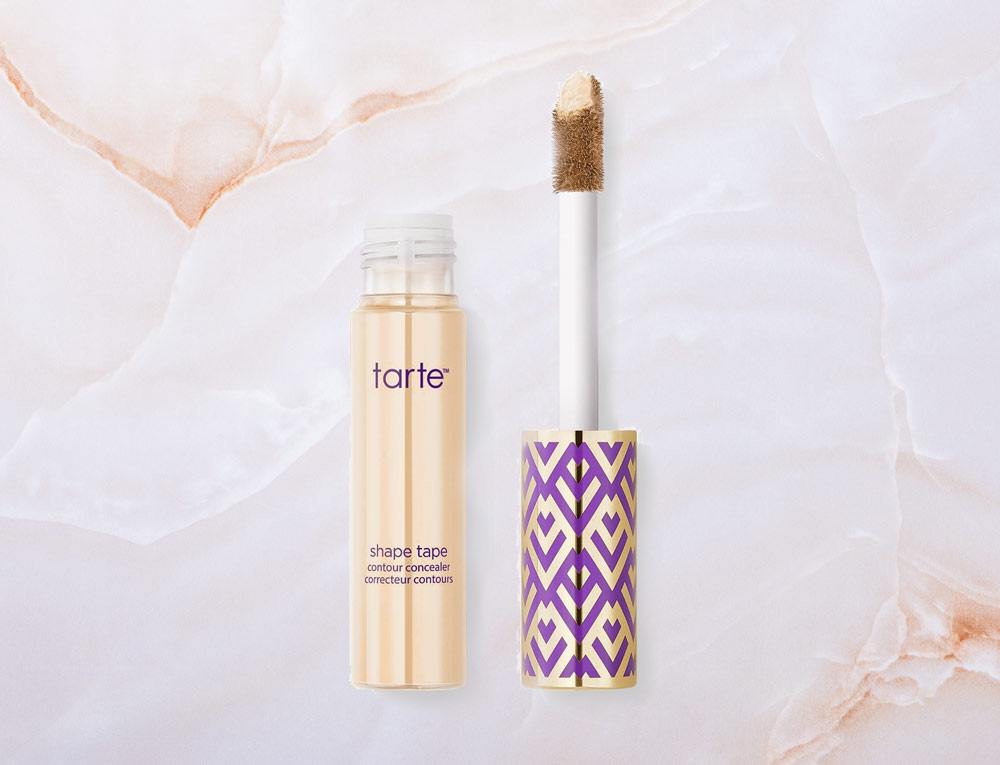 The concealer has a lovely creamy consistency that glides onto the skin. It isn't fragrance-free which is the only negative point I can think of. Not the worst thing, but some people have a sensitivity to fragrance. At least the smell is nice, it has a slight perfume smell, although I did hear some people complaining that it was too strong. I didn't have a problem with it and I'm sure the smell gets less as the day goes on.
The Tarte Shape Tape Concealer applies beautifully and stays that way the whole day. It has a lovely matte finish and it stays matte throughout the day without any finishing powder top-ups.
The concealer can also be doubled up as a highlighter or contour. Simply use a shade or 2 lighter or darker respectively. It works really well, however, for the price of the concealer I prefer to use it exclusively as a concealer. I find I can use other contours and highlighters for me to look good, whereas, for my concealer, this is pretty unique!
The Rundown on Colours and Ingredients
Tarte Shape Tape Concealer comes in 29 shades ranging from the very light to dark brown. I don't really know how their dark colours fare but I can tell you that their range of fair colours is really impressive.
All the shades come in cool, warm and neutral undertones so that they match all skin colours and tones.
If you are unsure what undertone your skin is, an easy way to see is to look at the veins on the back of your hands. If they are blue, you are cool-toned, if they are green, you are warm-toned and if you can see both colours you are neutral toned.
Tarte Cosmetics made a really useful chart online to help you chose the correct colour. I have inserted a copy of it below.
Tarte prides themselves on using ingredients that are good for you. Their motto is that beauty should be healthy and that's exactly what they've done. The Tarte concealer is free of any parabens, mineral oil, phthalates, triclosan, sodium lauryl sulfate and gluten and it is vegan. Basically they've taken all the bad chemicals out and instead replaced it with healthier stuff!
It is formulated with shea butter which is known for softening and moisturising the skin, as well as being an anti-inflammatory ingredient. The concealer also has mango seed butter which has similar benefits to shea butter, with the addition of helping to decrease lines and wrinkles and help nourish the skin. Lastly, it has licorice root. This helps colour correct your skin, if you have any hyperpigmentation or dark circles under the eyes, this is the magic ingredient.
You'll know you need this concealer if the list below applies to you
You're fed up of dark circles peeking through your concealer
You want a concealer that stays matte and in place throughout the day
Creasing is a no-no
You have ageing skin and need a moisturising concealer
Healthy ingredients are the way to go
You need the best!
My Thoughts
I think by now you will realise that I am a fan of the Tarte Shape Fade Concealer! I really love how it looks on and how it feels. It never feels cakey or heavy, in fact once applied I forget I am wearing anything.
The only negative about this concealer is the price, it's a little on the pricey side. But for a product this good, I think the price fits it well. Of course, I would love it to be cheaper but believe me, you are not wasting your money on this concealer. You will get your every penny's worth!
Let me know any thoughts or questions in the comments below! I love hearing from you all:)
Tarte Shape Fade Concealer can be bought from Amazon
Hollie xx
---
---
Anastasia Beverly Hills Benefit Cosmetics Bobbi Brown Chantecaille Charlotte Tilbury Clarins ColourPop Dermalogica Dior Dyson ELEMIS Elf Cosmetics Estée Lauder Fenty Beauty First Aid Beauty Fresh Hourglass Huda Beauty Jane Iredale L'Oreal lancome La Roche-Posay Laura Mercier LORAC MAC Makeup Revolution Mario Badescu Maybelline Molton Brown Morphe Nars Natasha Denona Neutrogena NYX Origins Peter Thomas Roth Revlon Sigma Beauty Smashbox Stila Tarte Cosmetics The Ordinary Too Faced Urban Decay YSL
---