Lancôme Cleansing Fluid- Galatéis Douceur Review
Do you find it hard to remove your eye makeup? Is your skin sensitive? Read on about the Lancôme cleansing fluid – Galatéis Douceur. It's one of the gentlest cleansers and one of the easiest to use!
Some wash their face in the shower, but for some reason, that has never worked for me. I've always washed my face after showering. Which is fine, whatever works for you is what you should do.
My only issue with washing my face after showering is that I need to use water again, which when washing my face often creeps up my arm. I find this highly irritating.
Are you wondering how all of this is relevant to the Lancôme Galatéis Douceur Cleansing Fluid? This cleanser doesn't need any water! You can simply apply some of the product to a cotton wool pad and clean your face. If you're feeling extremely lazy, you can even do it from the comfort of your bed!
Disclaimer: This article contains affiliate links. If you purchase using these links, you don't pay more, I simply earn a small commission!
Aside from my personal reasons on why this is a fab cleanser, there are many other reasons that will impress you! The Lancôme cleansing fluid is amazing at removing stubborn makeup and dirt. It thoroughly cleanses the skin and leaves it feeling fresh and rejuvenated.
This cleanser is so gentle it can be used on your eyes too which is always a bonus. Most cleansers are not sensitive enough to use on your eyes- they cause irritation and redness, but not this one.
It's an all-in-one product for your whole face, which means less faff and that you need fewer products in your vanity!
It comes in attractive white and blue packaging which looks and feels of good quality- fitting for a designer brand like Lancôme. I love that the bottle is a pump, it means you don't need to dip your hands into the cleanser. I know many people find that unhygienic (including me!).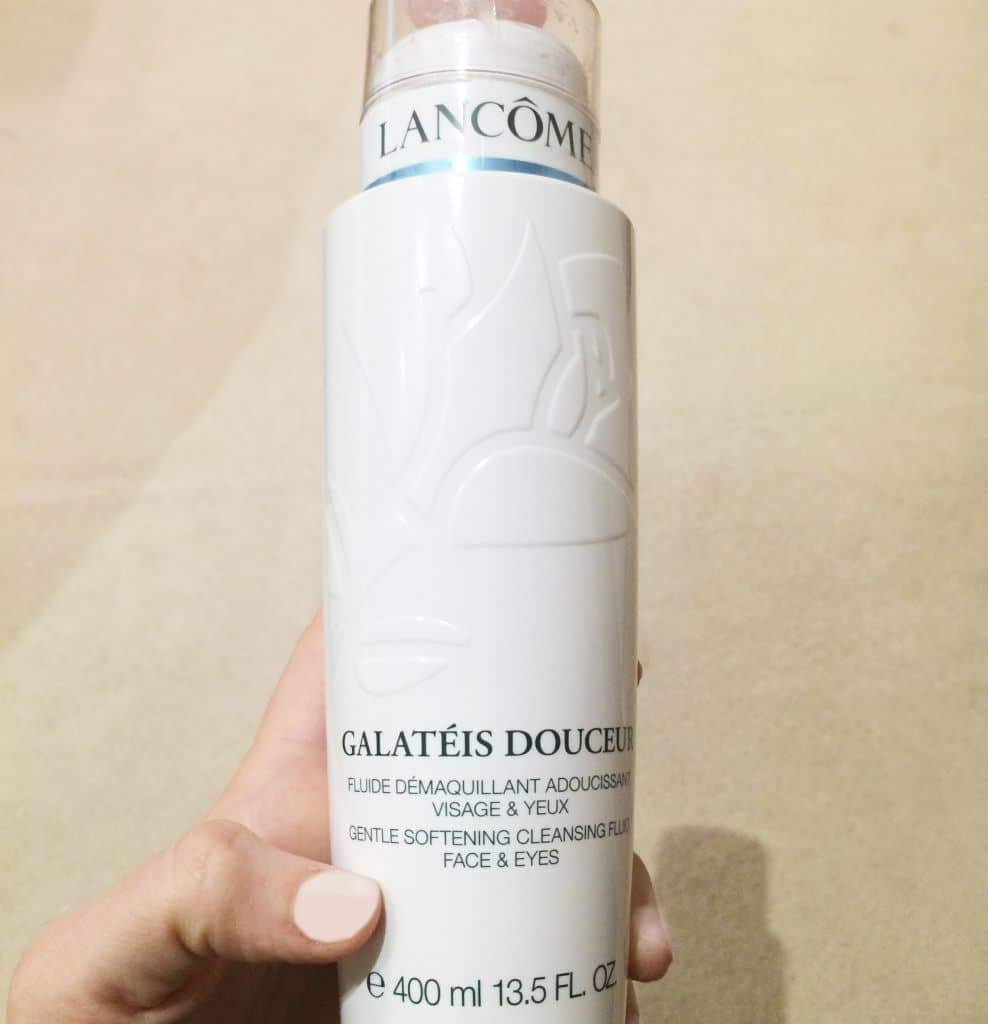 The texture of the cleanser is lightweight and creamy, it leaves the skin super soft thanks to its papaya and pineapple extract.
Who is the Lancome Cleanser best for?
The recommended skin type is normal to combination. If you don't like the feeling of an oily cleanser then this is the one for you. After using it your skin feels super soft and clean without any greasiness. It makes the skin look youthful and healthy without a lot of effort at all.
How often you cleanse depends a lot on your skin type. Those with dry or irritated skin shouldn't cleanse more than once a day because you're at risk of exasperating those concerns.
If you cleanse once a day, always do that cleanse at the end of the day when the skin tends to be dirtier. That being said, the Galatéis Douceur Cleansing Fluid is extremely gentle, so if you want, you can try out cleansing in the morning too.
You can use a cotton wool pad or your hands to rub it on your face lightly. Once you've applied the cleanser evenly you simply remove it using a tissue or a cotton wool pad. Easy peasy! (Mind the kids' language! Can you tell I spend a lot of time with my kids?
After using the Lancôme Cleansing Fluid, I recommend using the Lancôme Hydrating Toner to further purify and clean your skin. If you're not sure if toning is for you, check out my article on what toner is and if you should use one.
My Thoughts
If you're looking for a luxurious and effective cleansing experience that is gentle on your skin, Lancôme Galatéis Douceur Cleansing Fluid is the ultimate solution. Say goodbye to the struggles of removing eye makeup and the inconvenience of traditional face-washing methods. With this exceptional cleanser, you can achieve fresh, rejuvenated, and soft skin without compromising on quality or convenience.
Remember, Lancôme Galatéis Douceur comes in two sizes, 200ml and 400ml, allowing you to choose the one that suits your needs best. So why wait? Experience the transformative power of this remarkable cleansing fluid and elevate your skincare routine to new heights.
For more options that cater to sensitive skin and various budgets, explore our collection of recommended cleansers for sensitive skin. I believe that everyone deserves a cleanser that meets their needs and fits their lifestyle. Embrace the joy of healthy, radiant skin with the perfect cleanser for you.
Please note: The information provided here is based on personal experiences and opinions. It's always advisable to consult with a skincare professional or conduct patch tests if you have specific skin concerns or allergies.
UP NEXT: The best gentle makeup removers for sensitive skin
Shop My Favorites
Hollie xx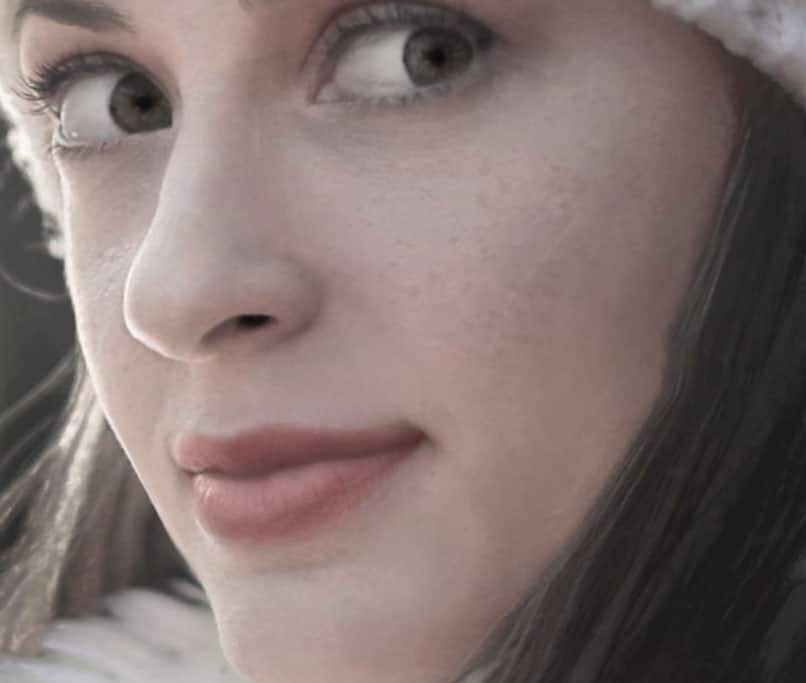 Hi, I'm Hollie, and I own BeautywithHollie.com. I love everything to do with beauty and love sharing my knowledge, advice, and beauty finds! Makeup and beauty are here to enjoy, and Beauty With Hollie is here to take the stress out of it!
---
---
Anastasia Beverly Hills bareMinerals Benefit Cosmetics Bobbi Brown CeraVe Chantecaille Charlotte Tilbury Clarins ColourPop Dermalogica Dior Dyson e.l.f. Cosmetics ELEMIS Estée Lauder Fenty Beauty First Aid Beauty Fresh Giorgio Armani Hourglass Jane Iredale L'Oreal Lancome La Roche-Posay Laura Mercier LORAC MAC Makeup Revolution Maybelline Morphe Nars Natasha Denona Neutrogena NYX Origins Peter Thomas Roth Revlon Sigma Beauty Smashbox Stila Tarte Cosmetics The Ordinary Too Faced Urban Decay YSL
---