When I first looked at this palette, my initial thoughts were, wow these colours depict nature and leaves. This is not surprising considering this palette was inspired by the beauty of the Virunga National Park in Africa. This is the home to the last remaining gorillas on the planet. Chantecaille Save The Forest Palette was created to help save these endangered gorillas. A part of the profit made from sales of the palette goes to save the forests which in turn, saves the gorillas. I think this is a really nice feature to the palette and it also sets it aside from other palettes on the market. 
Chantecaille Save The Forest Palette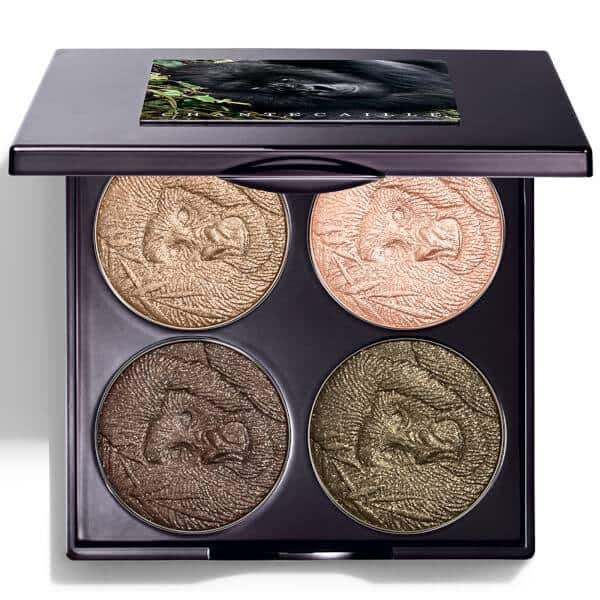 The palette comes with four breathtaking shimmery colours. They have really fitting names which I absolutely love!
Dawn – Scintillating Brown/Gold
Mist – Pale pink highlighter
Volcano – Rich brown
Bamboo – Deep olive green
Another feature I love and that makes it very unique is that each colour has a gorilla embossed on it. Every time you use this palette it will remind you that by you buying it, you've helped save these gorillas lives. Which is definitely a worthy cause:)
This palette is perfect for creating a beautiful smokey eye look. The colours are highly pigmented with beautiful texture and they are really easy to blend. They are also a nice size, not too small so they should last a while! All the shades are refillable which is something I always love! It makes the whole palette more practical with more potential.
My Thoughts
I think the Chantecaille Save The Forest Palette palette is a great buy. The colours are spectacular and the quality too. The only downside for me is the price. For a palette of 4 colours £76 is certainly pricey. However, if you're an animal lover then that should be the push for you to go and get it;) Saving animals and a beautiful palette, what more could you want?!
Chantecaille Save The Forest has just been released this September. They have also just released some beautiful lip shades that complement the eyeshadows perfectly. Be sure to check them out:)
It can be bought from lookfantastic.com for £76 or $103.50 (free delivery!)
Hollie xx
Related Posts