Cheap Makeup Organizer Ideas For Small Spaces
With property prices soaring and people's wages remaining the same, something needs to give. And that's usually the size of our living spaces.
Smaller spaces mean less space for makeup! Yes, for people like me that translates into a disaster! I'm exaggerating…a tiny bit, but seriously, a girl has to have somewhere to store her makeup!
We moved into our own house about a year and a half ago now. When we moved we had zero of our own furniture because our previous rentals were all furnished.
This meant buying everything and I mean everything from scratch! It sounds like fun, and it probably is on a big budget.
But, for normal people like me, it means prioritising what is a necessity, like beds, and what can wait, like makeup storage!
If you follow me on Instagram you'll notice that I've never posted an image of my makeup organisation. That's because it doesn't exist.
Everything is stuffed into a drawer and honestly, it's a mess. It's not ideal by any means, and I have to admit it does stress me from time to time.
However, I know it's not going to be like that forever. I just needed to find the head capacity to concentrate on what I need and like, as well as the budget for it!
Our house is definitely on the smaller side and with our 4 kids, we fill it very well. There isn't a ton of storage, and that means that everything has to be thought out properly with clever solutions. Including makeup!
For me, a good storage solution is one that doesn't take up too much space, and at the same time is user-friendly.
I have been looking for a while now on Pinterest and Instagram for inspiration on cheap makeup organizer ideas for small spaces.
Cheap, because who wants to spend a lot, and for small spaces, because the reality of the situation is that more and more of us are living in smaller living quarters.
I've put together my favourite cheap makeup organizer ideas for small spaces. Storing your makeup can look classy and elegant without breaking the bank.
With these makeup organiser ideas, your makeup will barely take up any space, yet at the same time, store a ton of makeup.
Disclaimer: As an Amazon Associate I earn from qualifying purchases on Amazon and other affiliate programs. This means on some purchases, I make a commission. It doesn't mean you spend more, it simply allows me to keep this blog going!
Cheap Makeup Organizer Ideas For Small Spaces
Ikea Spice Racks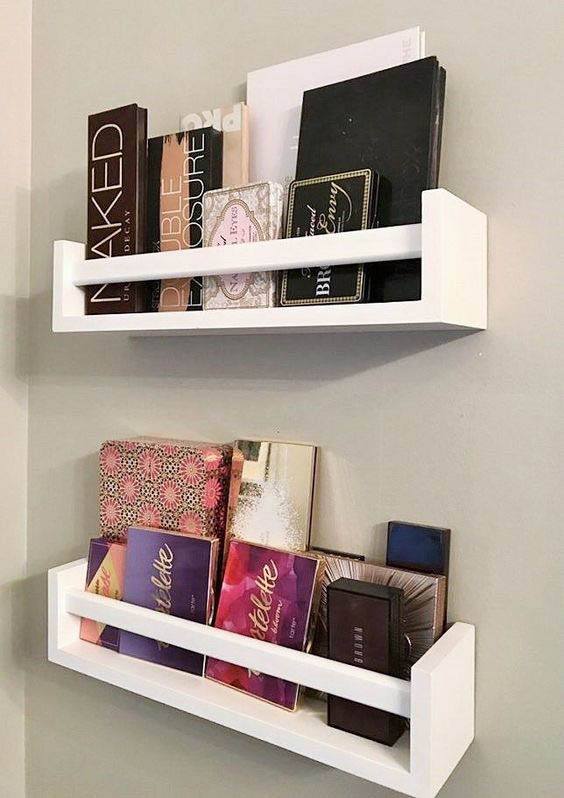 I love these Ikea spice racks. I've seen them used many times before for children's books, but how great do they look with makeup?!
These spice racks are perfect for palettes as seen in the image, I think they are also great for someone who doesn't have much makeup.
You can put these in your bathroom or in your bedroom. They add so much character and they're a clever organisation solution.
---
This is one of my favourite ways to organize makeup if you have a dressing table or a shelf to store it on. These acrylic storage containers can sit nicely in the corner.
Not only do they not make the room feel cluttered, but they also add so much personality. You can get it in all colours and sizes to fit your needs.
They can fit a ton of makeup inside and are excellent value for money. They just so happen to be a bestseller on Amazon. But if this one doesn't fit your needs exactly, there are loads of different variations of the same idea.
---
Show off your makeup collection with this rotating makeup caddy! A rotating makeup caddy will bring an edge to your dressing table.
If you don't have space on your dressing table this rotating caddy is perfect for a small cupboard or corner. You don't need to move anything around due to its really useful rotating feature.
It can also store a nice amount of products. You can move the height of the shelves around to suit your needs.
---
These Shadow Racks are pure genius. They are a great storage solution for small spaces. They make the whole process of applying makeup so much easier, you can see everything at a glance without fumbling through drawers and boxes or shadows and lipsticks.
But my favourite part of it all is that they bring the fun back into makeup, it helps bring your creativity back! Makeup should be colourful and fun, sometimes we just get sidetracked with it.
The racks are really easier to install, you can screw them in, pin them in or even use double-sided tape. They can be installed anywhere from your bedroom to your bathroom to behind cupboard doors. The options are endless!
---
With Ikea furniture being so popular and affordable, it's many people's choice of furniture. Vanity Collections have jumped on the bandwagon and come up with the brilliant idea of dividers that fit inside the commonly used Ikea furniture in bedrooms.
I love this innovative idea, it means everyone can buy affordable furniture and upgrade it to luxurious furniture.
With these dividers, your makeup can go in drawers, yet it will all be organised, accessible and easy to see what's what. And who doesn't want organised drawers?!
---
Many of us are short on floor space, but not so short on wall space. This wall unit barely takes up any depth which makes it the perfect organizer for small spaces.
It can be hung higher up the wall too, it's a very versatile idea and it works with any shelving unit. Not only is it useful but it's also pretty!
---
Whoever said that candy dishes are only for storing candy?! I think they look much better with makeup in and it's the healthier option too!
These look really pretty on display, you can colour-coordinate the makeup inside for a really striking effect. Candy dishes are the ideal solution for you if you have a dresser or even a windowsill.
They store a ton and don't take up so much space. They are the perfect solution for cheap makeup organizer ideas for small spaces.
---
I am obsessed with this wall-mounted cupboard. It's a really clever makeup storage solution. Not only is it great for the organisation, but it's really pretty too and you get a full-sized mirror included in it. Does it get any better?
Actually, yes, it's really easy to hang up, and the best part is you can do it without drilling any holes in your walls.
---
My Thoughts
I hope you have managed to find the ideal makeup organizer idea for your small space. My only problem now is that I don't know which one to choose. It's a hard one;)
However, I am looking forward to having all my eyeshadows, foundations and the rest of my makeup stored away beautifully!
All these ideas are affordable, great for small spaces and really pretty! I guess we can call this a first-world problem! Let me know what your favourite makeup storage is in the comments below.
Hollie xx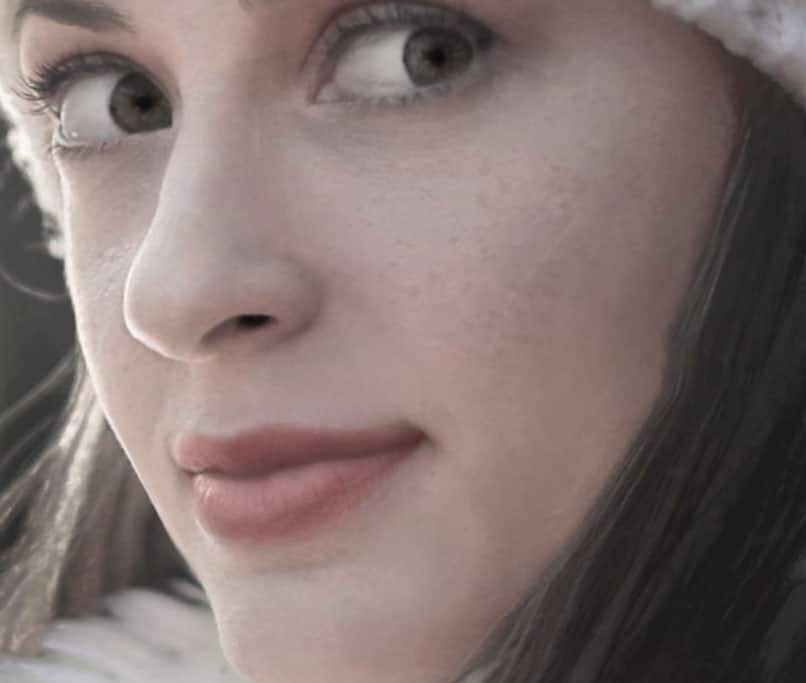 Hi, I'm Hollie, and I own BeautywithHollie.com. I love everything to do with beauty and love sharing my knowledge, advice, and beauty finds! Makeup and beauty are here to enjoy, and Beauty With Hollie is here to take the stress out of it!
---
---
Anastasia Beverly Hills bareMinerals Benefit Cosmetics Bobbi Brown CeraVe Chantecaille Charlotte Tilbury Clarins ColourPop Dermalogica Dior Dyson e.l.f. Cosmetics ELEMIS Estée Lauder Fenty Beauty First Aid Beauty Fresh Giorgio Armani Hourglass Jane Iredale L'Oreal Lancome La Roche-Posay Laura Mercier LORAC MAC Makeup Revolution Maybelline Morphe Nars Natasha Denona Neutrogena NYX Origins Peter Thomas Roth Revlon Sigma Beauty Smashbox Stila Tarte Cosmetics The Ordinary Too Faced Urban Decay YSL
---