ZOEVA – The Basic Moment Collection
Beauty bloggers and YouTubers have been raving about Zoeva's products for a while now, and I have to admit I've never tried any of their products before. However, when I saw the Basic Moment Collection, which was out in the shops on May 15th, I knew I had to get my hands on it. The palette literally took my breath away, the colours and the design look breathtaking and simply divine!
The Brand
If you've never heard of Zoeva nows the time to get to know it! Established in 2008 and based in Germany. The word Zoeva comes from the greek work 'zoe' which means life and eva who was the first woman. They started off producing makeup brushes and have now branched out to all makeup. They make high-quality products that are designed to dramatically change a woman's life. And honestly, a lot of their products look like they do just that!

[space_20]
The Basic Moment Collection
Before I even get to the inside of the palette I just have to talk about the packaging. They both come in a soft pink magnetic case which, honestly is one of the prettiest packagings I've ever seen. The only downside to the case is that there is no mirror inside. I don't usually use the mirror that comes with the makeup because I need a big full sized mirror to do my makeup:) But I know a lot of people do like a mirror inside so thats a bit of a shame.
The Basic Moment Collection comes with a gorgeous eyeshadow and face palette. I have always had an obsession with neutral palettes so these are dream palettes for me:)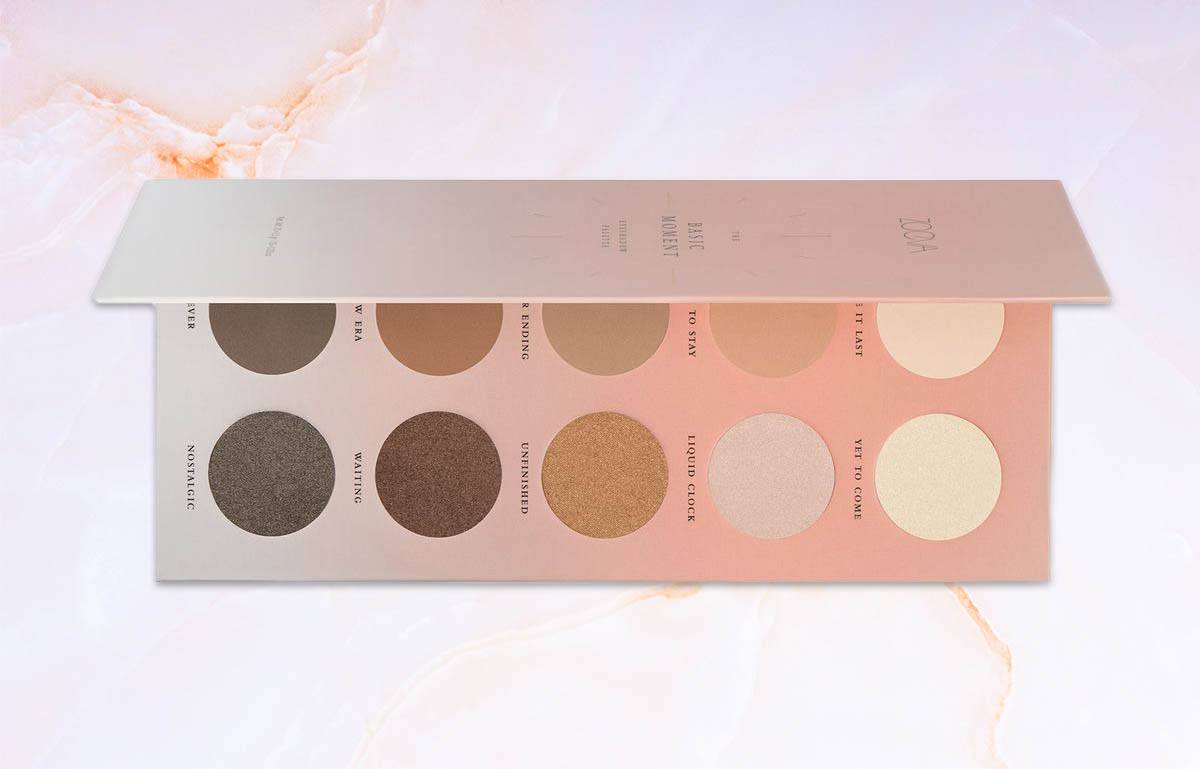 Basic Moment Eyeshadow Palette
The eyeshadow palette comes with 10 different beautiful colours all made up of timeless neutrals. There are 5 matte colours and 5 metallic colours with each colour being prettier than the next. Each colour can be worn alone and it will still look amazing because all the colours are highly pigmented. Because of the beautiful range of colours this palette works amazingly for all skin shades. Like the high quality of all Zoeva makeup these palettes are no different. The shadows stay on seamlessly and perfectly throughout the day. Nevertheless, I always recommend using an eye primer. My favourite one is the Urban Decay Eyeshadow Potion Primer which always adds its little touch of magic.
Click here to read my Urban Decay Eyeshadow Potion Primer Review
[space_20]
Basic Moment Blush Palette
The Basic Moment Blush Palette comes with a trilogy of three beautiful sculpted shades to enhance your features. It comes with a peachy blush, a gorgeous contouring colour and to finish it off a champagne coloured highlighter. They look flawless when worn and last really nicely throughout the day. One swipe is all you need since they are highly pigmented. The colours are build-able if you desire a more dramatic look.
My Thoughts
Do I recommend Zoevas Basic Moment Collection? 1000% yes! The colours are beautiful, the quality of the palettes is unbeatable as is the price too:)  What I also love about both palettes is that they complement each other perfectly.
Go and get yours, you won't regret it! And don't forget to let me know what you think of them:)
BUY NOW: Zoeva Basic Moments Eyeshadow Palette can be bought at beautybay.com for £18 
BUY NOW: Zoeva Basic Moment Blush Palette can be at beautybay.com for £13
Hollie xx
Related Posts