I am currently obsessed with the Venus XL Lime Crime Eyeshadow Palette. (Yes, I do get obsessed with a lot of palettes, but this one is really something!) If you aren't obsessed with it, it's probably because you haven't seen and used it! The colours and the textures are beautiful and they put all the other Venus eyeshadow palettes to shame.
The Lime Crime eyeshadow palette is not called XL without reason. This is the third Venus eyeshadow palette that Lime Crime has brought out. The other 2 Venus palettes have 8 colours and the Venus XL has 18 colours. And these aren't any colours, they are a beautiful collection of pinks, purples and nudes with different finishes and textures. Truly dazzling, in my humble opinion. The colours go perfectly for every occasion, for an everyday look or for an evening out. Each colour can be worn together with other colours, or alone, both ways and you'll look hot!
The Colours
One of the unique features that really caught my eye with this eyeshadow palette is that the names of each eyeshadow are written underneath the colour. Usually, the names are on the back of the palette, which can get slightly annoying. I'm all for convenience and this definitely makes the palette more convenient and easier to use.
The palette comes with matte, matte sparkle, glow and metallic. The matte is self-explanatory, although it's worth mentioning that the Lime Crime mattes are ultra buttery and soft. The matte sparkle is the classic matte with a touch of added sparkle. The glow is a unique, individual blend, it has a soft luminous finish, yet its not a shimmer or satin shadow. The metallic is ultra shimmery, a real show stopper. I love all 4 of the different finishes. Each one does its job perfectly!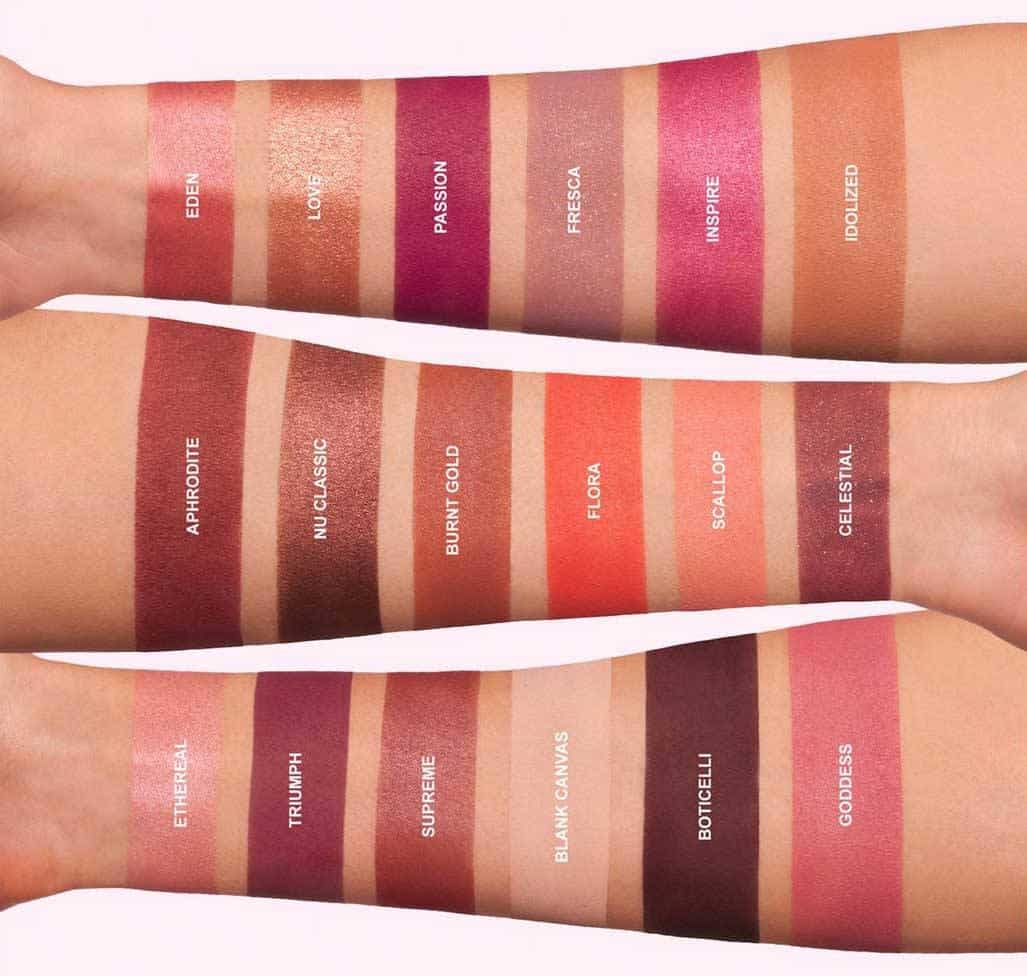 The colours are highly pigmented and they don't fade. However, even when the shadows are long wearing, I always wear a primer under my eyeshadow as I have terribly oily lids and it always holds my eyeshadow better. My favourite primer is the Urban Decay Primer Potion.
I'm really impressed with how easily the colours apply and blend! They go on with one swipe of the brush and blend seamlessly. Seriously this is one awesome palette!
Overall Thoughts
I honestly love the Venus XL palette and I wasn't expecting to love it so much. The quality is amazing and in general, I am extremely impressed with it. I totally forgot to mention the packaging – its truly goddess worthy! There is also a big mirror inside the palette which is always useful.
Overall, I could find no faults, well er actually, it is a little pricey. However, for the quality and colours you get, I do think its worth every penny! Is this palette a must? Probably not, but I'm sure everyone's makeup collection could do with an awesome palette like this one, even if you have a ton of palette already!
Do you have the Lime Crime Venus XL palette? If yes let me know in the comments below how you find it. Do you love it?
BUY NOW: Lime Crime Eyeshadow Palette Venus XL can be bought from lookfantastic.com for £56/$74
Have a good one,