Too Faced Unveils New Peach Bloom Collection That Color-Adapts To Your Skin
Merry Christmas and I hope you're all enjoying the special day even during these weird and odd times. It's all about staying positive, which I know is easier said than done, I know all too well.
Check out some of my Christmas inspirations for hair, makeup and nails. You'll have a laugh doing some of them and laughter is the best medicine. Another great medicine is new makeup! Introducing the new Too Faced Peach Bloom Collection!
Too Faced is nearly in competition with ColourPop with the amount of new makeup they're releasing at the moment! They've just dropped 4 new mini eyeshadow palettes and if that's not enough, they've also just released a new range called the Peach Bloom Collection.
So far that includes the Peach Bloom Color Changing Lip Balms and the Peach Bloom Color Blossoming Lip & Cheek Tint.
I tried to do a little digging to see what else the Peach Bloom Collection has in store for us but Too Faced is being very tight-lipped about it. I guess we'll have to wait and see!
However, I did manage to get out of them that there will be more Peach Bloom releases in the near future. I'm excited to see what they are and if you are too, stay tuned!
Too Faced Peach Bloom Collection
Both the Peach Bloom Color Changing Lip Balms and the Peach Bloom Color Blossoming Lip & Cheek Tint are made to adapt to your skin colour and tone.
I've reviewed a couple of other colour changing products and aside from them being fun, they are designed to adapt to the shade that suits your skin the best. It's kinda like getting your own custom-made makeup!
Peach Bloom Color Changing Lip Balms
The Too Faced Peach Bloom Color Changing Lip Balms come in 5 different shades. Each one has been specially made so that the balm adapts to your skin colour.
This doesn't mean that the actual colour of the balm is going to drastically change. It means that the tone will adapt to your personal PH level. Simply put, you can buy the balm and you don't need to worry about whether it suits you or not. Its colour-adapting flush will take care of that!
They call it Colour Changing Lip Balms, while they are technically colour changing, they aren't quite as impressive as the Barry M Colour Changing Lipsticks.
Nevertheless, they're still a neat concept and one that I wish all lipsticks would adopt! That would definitely be a lipstick revolution!
The colour-changing feature is not all there is to love about these lip balms. As already mentions, there are 5 shades. Each one is dual-toned with an adorable heart in the middle.
The shades are:
Pink Whisper- Yellow with a pink heart
Lilac Nude- Nude with a light pink heart
Peach Punch- Peach with a yellow heart
Playful Pink- Light pink with a bright pink heart
Raspberry Flush- Bright pink with a light pink heart
Aside from being beautiful in colour, the lip balms are extremely soothing and moisturising on the lips.
With lovely ingredients like vitamin E, mango and shea butter, and natural avocado oil, you can be sure your lips will get all the TLC they need! Especially during these colder months when our skin needs that extra bit of care.
The packaging is charming and simple, with a peach featured on all of the balms. I'm not sure if this collection is supposed to be their upcoming Spring collection, but it certainly gives me Spring vibes!
These are cute lip balms that you can't really go wrong with. I love how they are suitable for all ages and how you don't need to worry about the shade suiting you!
Check out some of our other favourite Too Faced products here
Peach Bloom Color Blossoming Lip & Cheek Tint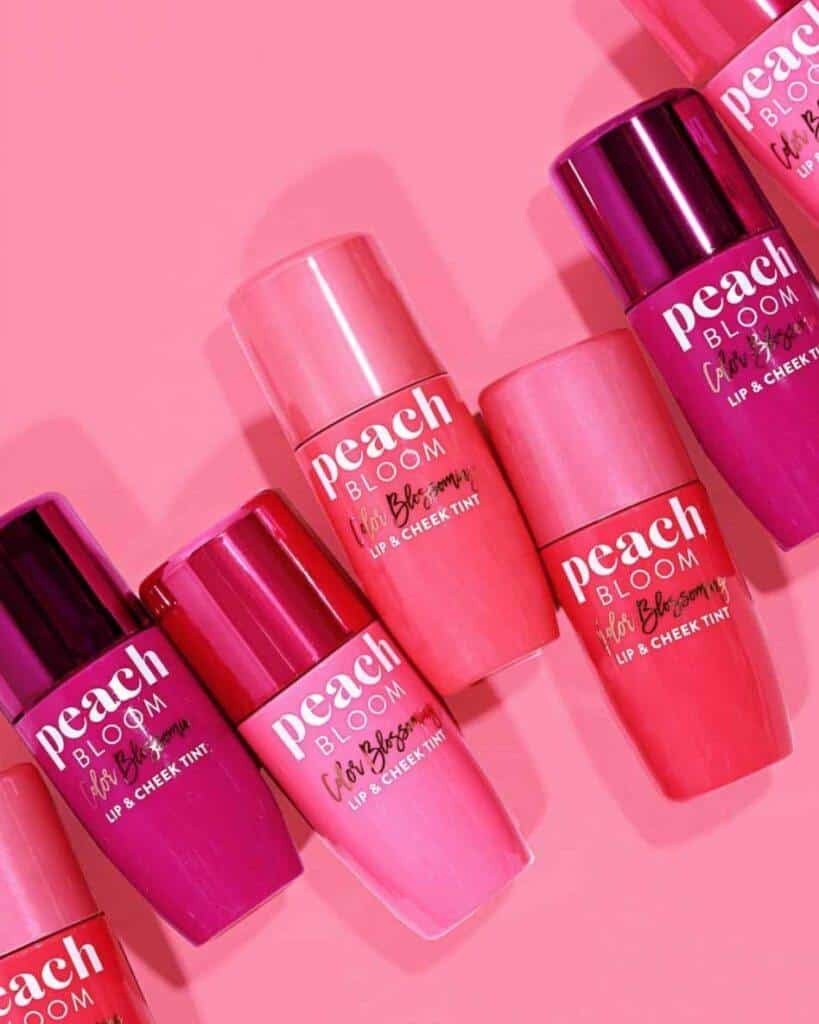 Combining lip and cheek products has been quite the trend recently! People love multitasking their makeup, and having your lips and cheeks match really looks great!
The Peach Bloom Color Blossoming Lip & Cheek Tint comes in 4 luscious shades. Like the Lip Balm, the Lip & Cheek Tint also colour adapts to the pH value of your skin to create the perfect shade for you.
This is really great for blush, because so often blush is the wrong colour, or just looks off. With the colour-adapting technology, that can be a fear of the past.
One small tip though, try not to get sidetracked when applying the blush. Since it dries pretty quickly, you need to blend quickly to get beautifully flushed cheeks that don't look painted on!
The Lip & Cheek Tint shades are:
Guava Glow
Strawberry Glow
Peach Glow
Grape Pop Glow
If you have never used a cream or gel blush before, it may take a couple of attempts for you to get the hang of it. Once you get the hang of it, you'll be able to do it in your sleep.
Apply 3 dots by the apples of your cheeks and simply blend it all out. Wait and the magic will happen! It will adapt to your skin's pH, giving you a natural-looking beautiful flush! The formula has a stunning glossy finish without any stickiness.
Have you always loved that stained-glass skin effect? Well, now's your chance to get that! Use it on your lips for the same lovely effects and finishes!
The Lip & Cheek Tint is made with nourishing ingredients like Manuka honey and marshmallow extract. This ensures that even while you're looking your prettiest, your skin will still be taken care of!
My Thoughts
Both the Peach Bloom Color Changing Lip Balms and the Peach Bloom Color Blossoming Lip & Cheek Tint are useful and beautiful products!
They are affordable and I love the added personalised touch of the colour-adapting formula. It gives people like me more confidence in the products I buy! I also love how the Lip & Cheek Tint doubles up, I'm all for saving time and money!
Images: Too Faced
Too Faced Peach Bloom Collection is sold out. Check out more Too Face makeup here.
Hollie xx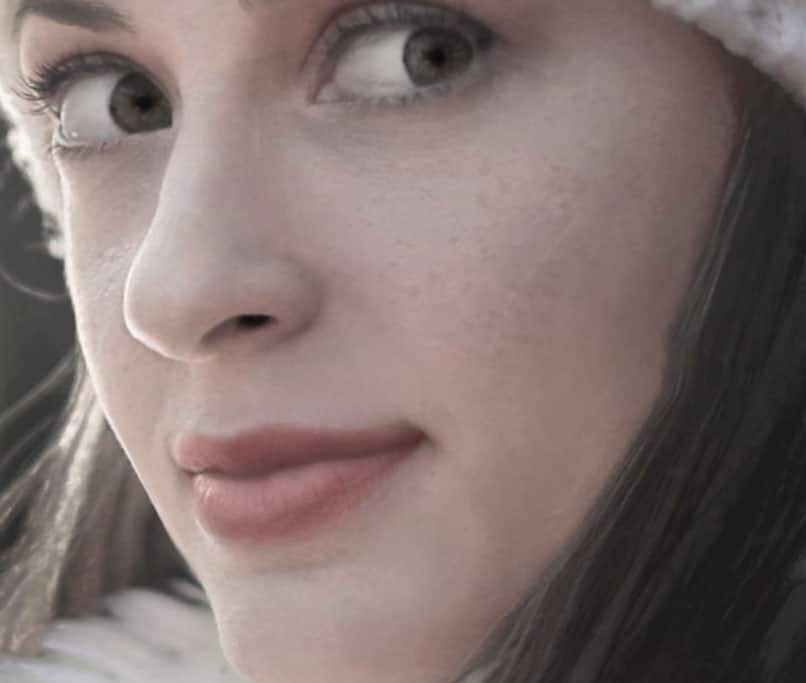 Hi, my name is Hollie, and I own BeautywithHollie.com. I love everything to do with beauty and love sharing my knowledge, advice and beauty finds! Makeup and beauty are here to enjoy, and Beauty With Hollie is here to take the stress out of it!
---
---
Anastasia Beverly Hills Benefit Cosmetics Bobbi Brown CeraVe Chantecaille Charlotte Tilbury Clarins ColourPop Dermalogica Dior ELEMIS Elf Cosmetics Estée Lauder Fenty Beauty First Aid Beauty Fresh Hourglass Huda Beauty IT Cosmetics Jane Iredale L'Oreal lancome La Roche-Posay Laura Mercier LORAC MAC Makeup Revolution Mario Badescu Maybelline Morphe Nars Natasha Denona Neutrogena NYX Origins Peter Thomas Roth Revlon Sigma Beauty Smashbox Stila Tarte Cosmetics The Ordinary Too Faced Urban Decay YSL
---