The New Too Faced Christmas Holiday Collection 2021
Too Faced has treated us to a fab collection this Holiday season! While most brands bring out one new collection with a bunch of products, Too Faced has really taken it up a notch.
I'm not sure how many collections to call their Chrismas Holiday release, but it's a heck of a lot of products! And no, I'm not complaining! I'm not one to say there's too much makeup. Not ever:)
I've tried to divide the products as much as possible into different collections so that you can see them in an organised way. I love the way the makeup varies in styles to really please everyone's individual tastes and makeup needs!
Let's get started with Too Faced's holiday collection!
Too Faced Christmas Holiday Collection
The Pumpkin Spice Collection consists of a beautifully scented eyeshadow palette and matte lipstick. This collection has already been released and has been a real hit.
The whole vibe of the palette is fall and pumpkins, from the colours to the scent. The palette comes in 18 warm-toned colours with a variety of finishes. Looking for a fun Halloween look? This is the ideal palette for that!
The pigment of the colours is amazing but there is some fallout so my advice is to start your makeup with your eyes before doing your face.
Do you love pumpkin spice but you don't want to eat it all day? The simple solution is to wear this lipstick. You'll get the pumpkin smell all day, without the calories!
The lipstick is a deep reddish/brown colour that applies smoothly like a lip gloss but dries to a matte opaque finish. I love the colour, it gives me that warm fuzzy fall feel!
The best part about this lipstick is that even though it dries matte, it's made with moisturising ingredients to ensure that your lips stay soft and don't dry out over the day. Check out more Too Faced lipsticks here.
Enchanted Wonderland Collection
The Enchanted Wonderland Collection has yet to be released but as you can see it's well worth the wait! The collection is all about a magical winter wonderland with magical animals and fairytales and romance.
Each set has a unique scent which is a fun and cute touch! It's a perfect holiday collection, especially for this year when it looks like we'll have to spend it at home without the usual celebrations. Get your imagination running with this collection!
The Enchanted Beauty Unbearably Glam Makeup Set comes with a magical 15-shade eyeshadow palette, a highlighter and blush palette and of course, their bestselling Better Than Sex mascara which comes in a travel size. This set smells like Christmas cookies- yum yum!
The Enchanted Wonderland Makeup Set consists of 3 large palettes, each featuring a different animal theme with matching colours. They each come with 6 eyeshadow shades and 2 face ones.
Again, no Too Faced set is complete without their Better Than Sex mascara! The only difference with this one is that it has a new holiday packaging with snowflakes on the mascara tube! This set smells like maple syrup, mmm!
The Enchanted Beauty Foxy Neutrals Makeup Set comes with a 12-shade eyeshadow palette, a blush and highlighter duo palette and a Damn Girl travel-size mascara. This set smells like Christmas Cookies.
One thing I'm questioning is their choice of animals. Really? A fox? If you live in London, running into a fox is not a rare thing but one thing is for sure they are sly animals which do more damage than good! They are not cute animals in any way!
The Enchanted Forest Makeup Set is definitely a cuter set! This set comes with a huge palette consisting of 20 eyeshadow shades and 4 face shades.
It also comes with a Lip Injection Lip Gloss in the exclusive Christmas Shade Enchanted Pink, and lastly, a travel size Better Than Sex mascara. This palette smells like pecan pie!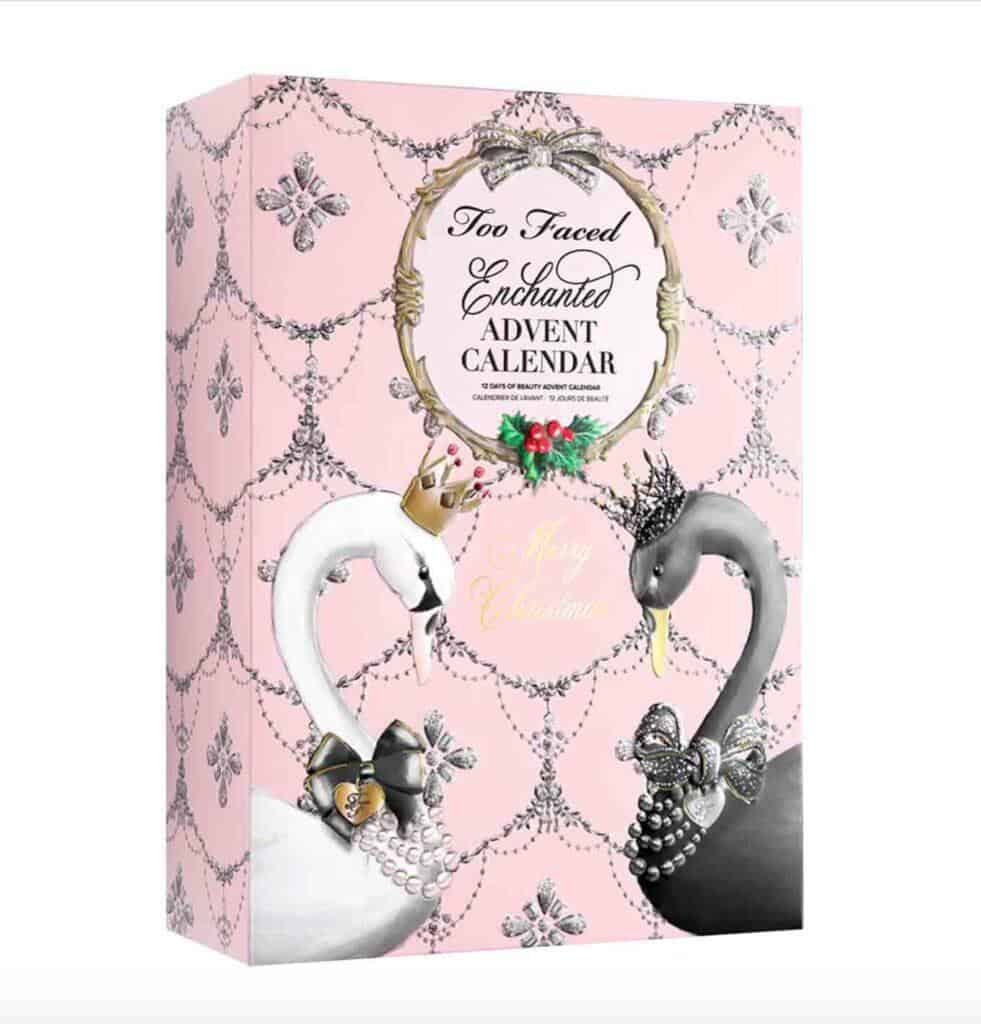 The last of the Enchanted Wonderland is a 12-day advent calendar. Filled with all of the Too Faced favourite products!
Get a set of their new Lip Injection lip glosses. These lip glosses don't just give your lips a nice shimmer, their primary role is to volumize and hydrate your lips naturally.
Their formula has been scientifically proven to work so if volumized lips are what your lips need then go for it!
This set comes in 3 different scents and shades. Lip Injection Extreme Original is a clear lip gloss with no scent, Lip Injection Extreme Pumpkin Spice has a deep orange colour and Lip Injection Extreme Christmas Cookie is a pale pink colour.
Cinnamon Bear Collection
Cinnamon Bear Makeup Set has a sweet and spicy cinnamon-scented eyeshadow palette with 8 eyeshadow shades and one cheek shade.
It also comes with a Lip Injection lip gloss and the cutest makeup bag which features bears all over it. And, you guessed it, it all smells like cinnamon bears!
This is a really cute and wearable collection, the eyeshadows are of great quality and beautiful colours!
You also have the option to buy the Too Faced Lip Injection Extreme lip gloss on its own. It has a beautiful red colour and also smells of cinnamon bears!
The Salted Caramel Mini Eye Shadow Palette is your perfect warm-toned neutral palette in mini! And yum, it smells of salted caramel.
The Gingerbread Spice Mini Eye Shadow Palette is a cute and useful eyeshadow palette. Based on the previous Gingerbread Spice Palette, they took the best shades to make one perfect palette for this year's holidays!
Mini Ornament Sets
These mini ornament sets make the perfect stocking fillers or you can even hang them from your tree! That would look so pretty:) These sets are cute, festive and useful!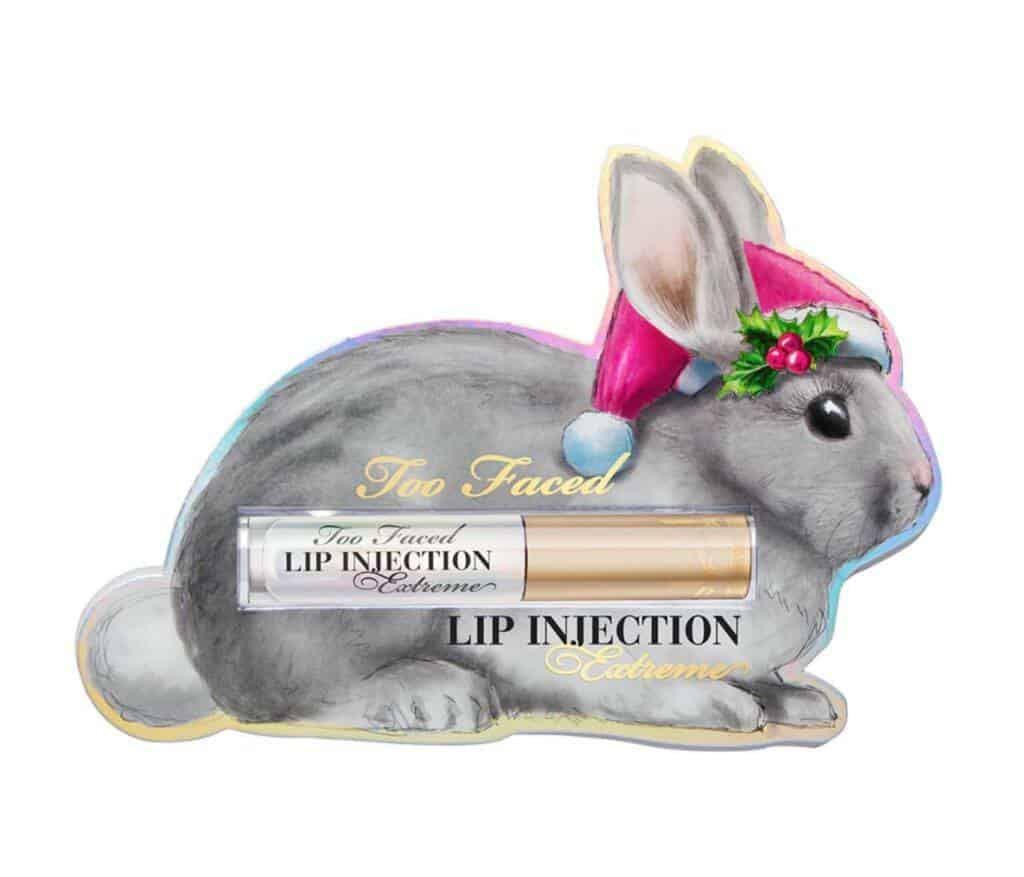 Gift Sets
Is any holiday collection complete without loads of gift sets? Apparently not, if you ask Too Faced, judging from the huge amount of gift sets that they've released!
Christmas Snuggles & Melted Kisses Liquid Lipstick Set comes with 4 sweetly scented liquid lipsticks. They are enriched with moisturising ingredients like avocado oil and hyaluronic acid so you can be sure they won't dry out your lips.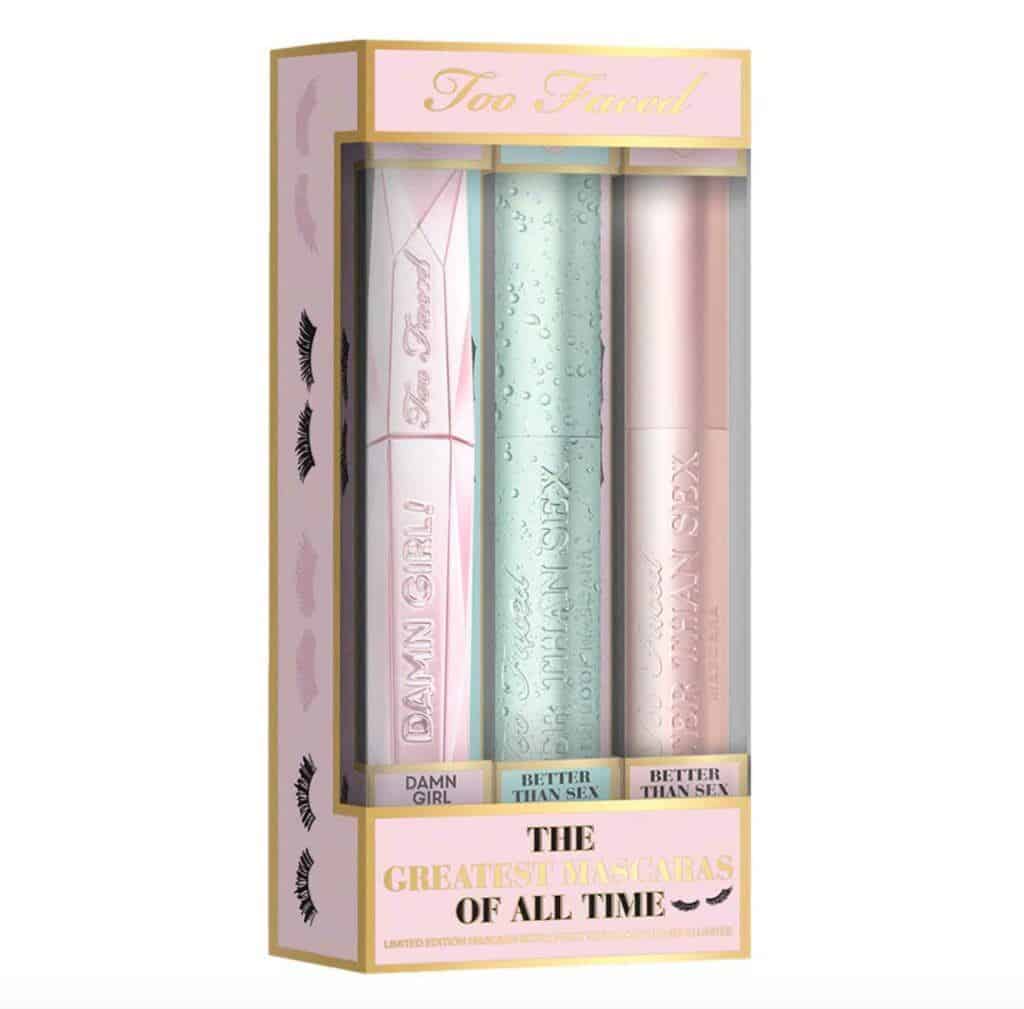 The Greatest Mascaras of all Time includes 3 of their iconic mascaras: Better Than Sex in waterproof and not waterproof and Damn Girl. All 3 are full sizes! It has not yet been released but it's coming soon.
Sugar Plum Fun Makeup Set is fit for any fairy wannabe! It comes with a gorgeous 8-shade eyeshadow palette full of glitters and pinks!
It also comes with a travel-size Lip Injection in a Sugar Plum Fun shade and an eyeshadow primer. The set smells of macarons which fit very well into the pink fairy theme! This set has not yet been released but it's on the way.
If you love Too Faced's Hangover set, then you'll love the I've Got a Holiday Hangover Skincare Set. Included in the set is the Hangover primer and setting spray in travel size and a full-size Pillow Balm lip treatment as well as the cutest pink makeup bag.
Fly the Sexy Skies Better Than Sex Makeup Set has all your favourite Better than Sex products in one gift set! You get a full-sized mascara and waterproof eyeliner, a travel-size lipstick and your very own Better Than Sex makeup bag!
Get your favourite Pillow Cream and Pillow Balm products in this fun Sleepover Survival Kit along with the added bonus of an exclusive Hangover scrunchie. Next time you go to a sleepover you know what to give the host:)
All I Want For Christmas is Sexy Lips and Lashes will make a good stocking filler and tree ornament. It comes with one travel-sized Too Faced Better Than Sex mascara and one travel-sized Too Faced Lip Injection.
Better Than Sex Vault Mascara Set includes 5 full-sized mascaras, giving you a full year's supply of mascara! This is the perfect gift for that special person who can't live without their Better Than Sex mascara!
My Thoughts
The New Too Faced Christmas Holiday Collection really has something for everyone. Although there is some repetition with colours and products there is a lot of originality in the collections as well!
Happy holiday shopping! For more Too Faced collections, check out the Too Faced Teddy Bare Collection here.
Hollie xx
---
---
Anastasia Beverly Hills Benefit Cosmetics Bobbi Brown CeraVe Chantecaille Charlotte Tilbury Clarins ColourPop Dermalogica Dior Dyson ELEMIS Elf Cosmetics Estée Lauder Fenty Beauty First Aid Beauty Fresh Hourglass Huda Beauty Jane Iredale L'Oreal lancome La Roche-Posay Laura Mercier LORAC MAC Makeup Revolution Mario Badescu Maybelline Morphe Nars Natasha Denona Neutrogena NYX Origins Peter Thomas Roth Revlon Sigma Beauty Smashbox Stila Tarte Cosmetics The Ordinary Too Faced Urban Decay YSL
---