The Best Cheap Eyeshadow Palettes in 2023
Who says buying makeup should break the bank? In the not-so-distant past, things like eyeshadow palettes were expensive and not so common.
We are lucky that nowadays there are so many affordable choices that you no longer need to spend much to get a beautiful palette.
I have put together the best cheap eyeshadow palettes that are on the market. They are cheap, yet the quality has not been compromised.
If your love is expensive and designer eyeshadow palettes, then you must check out these eyeshadow palette dupes!
Before you buy an eyeshadow palette…
Before you begin your search for an eyeshadow palette, ask yourself a few questions to narrow down the options. It makes the final decision so much easier:)
The questions you need to ask yourself are what type of occasion do you need it for? Every day or occasion, you can have one palette for all. Are you looking for a neutral palette or loud colours? Cool or warm-toned?
Doing a little questionnaire on yourself before you buy a product can save you disappointment after. I find I always shop better when I know exactly what I am looking for.
Matching the tone of the palette to the tone of your skin is always a good idea. Generally speaking people with warm-toned skin suit warm-toned makeup and those with cool-toned skin suit cool-toned makeup.
An easy way to check the tone of your skin is to look at your veins, if they appear blue then you have cool undertones and if they appear green, then you have warm undertones.
While it's nice if your makeup matches the colour of your clothes, it's even nicer when it tones in with the colour of your skin. At least that's my opinion! Do you prefer matching your makeup to your skin tone or your clothes?
Use the right tools and products
Using the correct tools when applying your makeup is essential. When applying mattes use a fluffy blending brush and for maximum pigmentation, I suggest using a flat shader brush. When applying shimmers it's best to use a flat synthetic brush or even your fingers.
As with any eyeshadow palette- designer or budget I highly recommend using a primer.
This will keep your eyeshadow intact throughout the day without it creasing or coming off. My favourite ones are the Urban Decay Eyeshadow Primer Potion the MAC Prep + Prime.
Disclaimer: As an Amazon Associate I earn from qualifying purchases on Amazon and other affiliate programs. This means on some purchases, I make a commission. It doesn't mean you spend more, it simply allows me to keep this blog going!
As you can tell by the name this is a nude eyeshadow palette. The palette comes with 10 beautiful neutral shades that are warm-toned. If you want affordable shimmer then this is the palette you need because it is close to perfection.
The palette comes with 6 shimmers and 4 mattes. The shimmers are utterly delightful and the colour choice is too. I love the gold and pink combination.
It comes with all the useful shades that every palette should have. It has a matte cream-coloured base for your eyes and a dark matte brown for a smokey look. The colours are highly pigmented, some more than others.
If you are struggling to get a very intense look with one of the less pigmented colours applies it with a wet brush. Using a wet brush always makes the colours more intense.
The Need It Nude Eyeshadow Palette is often compared to the Urban Decay Naked 2. The obvious similarity is the way the palettes are laid out.
The colours are also a little similar, but the main difference is that the Need It Nude is warm-toned and the Naked2 is cool-toned. Oh, and the price!!
Overall, with this palette, you get great value for money. Without breaking the bank you get a beautiful palette that is suitable for all occasions.
Pros
Cheap
Cruelty-free and vegan
Can be used for every day and evening look
Need It Nude Eyeshadow Palette by Elf Cosmetics can be bought from Amazon
---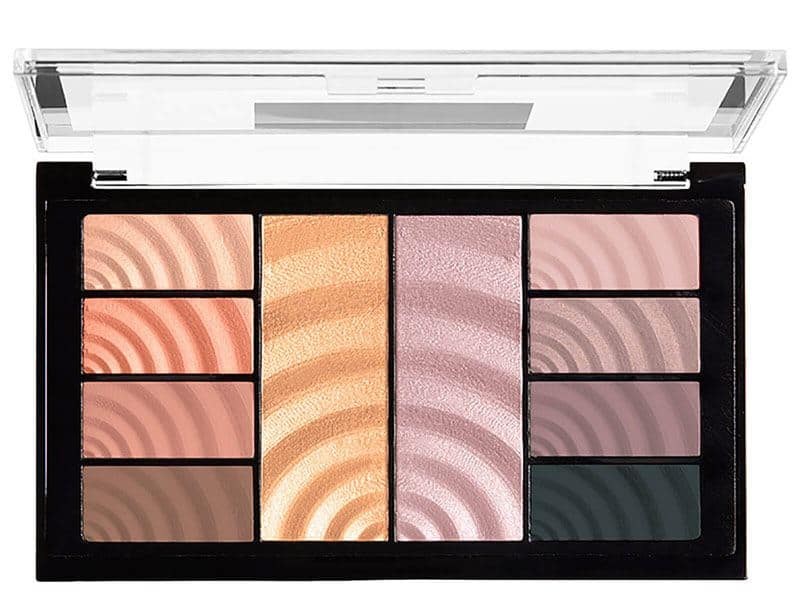 Why get an eyeshadow palette when for the same price you can get an eyeshadow and highlighter palette combined?!
This gorgeous palette is a 2 in 1 and who doesn't love saving money, I know I do! It's a 2-in-1 in other ways too, it has a combination of warm and cool tones so you can really play around and get creative.
The palette comes with 8 stunning eyeshadow shades and 2 shimmery highlighters. The colours are all extremely soft and silky with high pigmentation. They are very easy to apply and they blend seamlessly.
There is some fallout, however, I always find using a slightly damp brush solves this problem.
The Maybelline Total Temptation Eyeshadow & Highlight Palette is one of those palettes that you can't go wrong with. The colours are easy to apply and blend and you can create a day or evening look with them.
It's small enough to travel with, yet it has enough variety of colours for many different looks. This is perfect for beginners because it is so easy to blend and it's also for experienced makeup users because it's a good solid palette that as I said before, you can't go wrong with.
Pros
Eyeshadow and highlight palette combined
Has warm and cool tones
Can be used for every day and evening look
Great for beginners
The Maybelline Total Temptation Eyeshadow & Highlight Palette can be bought from Look Fantastic UK
---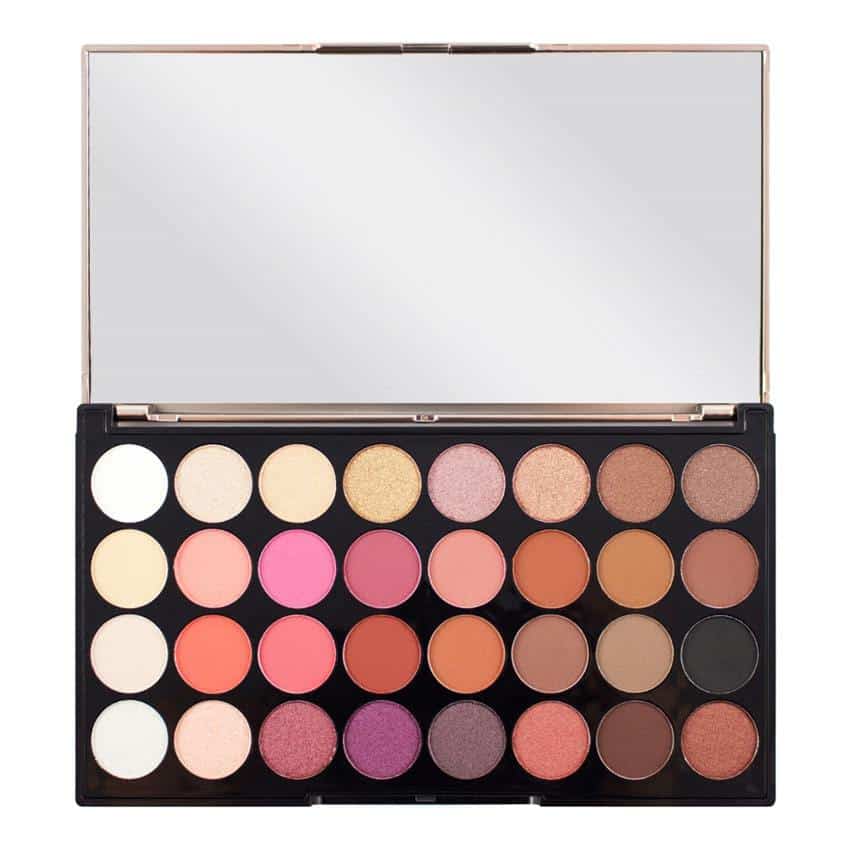 Makeup Revolution is famous for its eyeshadow palettes and judging by this one, it's understandable why. It comes in 32 warm-toned colours with some really popping colours. This palette will give you a perfect combination of dramatic yet classy.
The palette has a fun mix of mattes and shimmers and together with the vast colours, any look can be created.
I like how the palette has so many base colours, I find these are always finished first because they are the base of most looks. It's always helpful when a palette is thought through properly!
The matte shades apply seamlessly with little fallout, however, the shimmery ones are a little looser in texture. Using a damp brush will solve any problem there.
Overall this is a winner palette, it is extremely versatile and beautiful. Another palette you can't go wrong with.
Pros
100% cruelty-free
Full-size mirror included
Suitable for all skin shades
Cons
Some shades have fallout
Revolution Ultra 32 Flawless 4 Eyeshadow Palette can be bought from Revolution Beauty
---
This beauty comes with an extra bonus in the form of a pencil. The pencil can be used like any eyeliner. One end is a black eyeliner and the other is a champagne-coloured highlighter. I love how the eyeliner comes with a sharpener too- they really thought of everything.
I got a little over-excited with the eyeliner that comes with the palette but of course, the real deal here is the actual eyeshadows. They are pretty awesome. The palette comes with a combination of matte and shimmer colours. There are 10 shades, four are mattes and 6 are shimmers.
It is an extremely versatile palette. The mattes can be worn alone for a day look or paired with shimmer for a dazzling evening look. The shades are all really buildable and blend beautifully.
The MUA Eyeshadow Palette Elysium is a great palette for any bargain hunter. It is a remarkably good value for money and it's worth every penny.
Pros
Comes with a double-ended eyeliner
Suitable for day and evening look
Good for sensitive skin
Cruelty-free
Cons
No mirror
Eyeliner prone to smudging
MUA Eyeshadow Palette Elysium can be bought from Beauty Bay
---
So I wasn't sure if I should include this eyeshadow palette at all. Technically speaking it doesn't belong here because it is not as cheap as the others. But, on the other hand, the equivalent designer palettes are a lot more expensive.
In the end, I decided to include it because I think you are getting particularly good value for money. The palette is of exceptionally high quality and the colours are super pigmented.
This palette comes in six different colour combinations. They are Neutral-cool, Neutral-warm, Bright, Smokey/Highlight, Pheonix and Ash. We think the most fun one is of course- the Bright one and that's why it gets to feature here. It is the most unique and the colours are simply brilliant.
The NYX Professional Makeup Ultimate Eyeshadow Palette in Bright comes with 16 high-performance rainbow colours. There aren't many palettes on the market that have got bright and unique colours right. They usually aren't pigmented enough and don't apply nicely.
NYX know how to do it right.
The palette is really easy to use, and the shades blend beautifully and last really nicely. It's perfect for anyone who wants to try out some fun bright new makeup looks
Pros
Good value for money
Cruelty-free
A large variety of colours
Cons
No mirror
A little pricier than the others
NYX Professional Makeup Ultimate Eyeshadow Palette in Brights can be bought from Ulta
---
This Barry M palette is exclusively metallic shimmers and it couldn't be more beautiful! Whilst it is not the most cost-effective because it is mainly an evening/occasion palette it is still worth every penny. Just look at those colours and then argue with that:)
The palette comes with 10 shimmery shades, each one more shimmery than the next. There are 5 warm and 5 cool colours. It has all the colours you would need for a full shimmery makeup look.
It has the base colour and colours for a smokey eye look. The colours are highly pigmented and blend so smoothly and easily.
To sum up this Barry M Deluxe Metals Eyeshadow Palette in one sentence- the price is amazing but the quality is fantastic!
Pros
Comes with a mirror
Good value for money
Warm and cool colours
Cons
Only shimmery shades
Barry M Deluxe Metals Eyeshadow Palette can be bought from Amazon
---
What is the point of a cheap eyeshadow palette review without including a bunch of Makeup Revolution palettes?! I have always loved the Makeup Revolution palettes because they never fail.
They are good solid palettes for a fraction of the price and the Revolution x Roxxsaurus Ride or Die Shadow Palette is no exception.
The Revolution x Roxxsaurus Ride or Die Shadow Palette is part of their new release in collaboration with YouTuber Roxxsaurus. The range includes a pastel eyeshadow palette and a highlight and contour palette.
This one is my favourite because it has a fun factor, and at the same time an elegant factor. It has a bit of both worlds combined beautifully from the packaging to the product itself.
The palette comes with 18 beautiful shades with a mixture of mattes and shimmery shades and pastels and bright shades. From the pastel pink to the bottle green and the playful orange there is a lot to play around with and many looks to create.
The palette can be used for everyday occasions, it's got you covered.
One thing for sure is, that you won't get bored with this palette.
Pros
Mirror included
Big variety of colours
Good value for money
Cruelty-free
Revolution x Roxxsaurus Ride or Die Shadow Palette can be bought from Revolution Beauty
---
From my first look at this palette, I just knew it would be a bestseller. The colours are to die for. I love them! The palette epitomises class and elegance.
The palette comes with a variety of cool-toned shades. It has 12 mattes and shimmers with endless options of looks that can be created. The colours are pigmented enough to be worn alone or combined in whichever way you fancy.
It has a nice base colour and a few shades for a smokey eye. The black is really intense and it can double up as eyeliner.
The i-Divine palettes have a unique formula that contains pearlescent shades. These cause the makeup to have a constant beautiful highlight and shine.
When I see a palette like this, I wonder why anyone pays more for an eyeshadow palette when you get both the quality and the price you are looking for all in this palette.
Pros
Mirror included
Highly pigmented
Good value for money
Cons
Don't love the brush tool
Sleek MakeUP i-Divine Au Naturel Eyeshadow Palette can be bought from Amazon
To sum it all up…
We are always more tempted by designer and celebrity makeup. And it's understandable why, but we have to remember that just because it has that stamp of approval does not mean that the makeup is actually better.
The price is usually hiked for the sole reason that their name appears on it.
I hope you have enjoyed my review of the best cheap eyeshadow palettes of 2023. I have certainly enjoyed writing it because eyeshadow palettes are one of my weaknesses, especially cheap ones that I can afford!
If you have sensitive eyes and often react to your eyeshadows then check out my review on the best eyeshadow palettes for sensitive skin. It's a must-read!
Hollie xx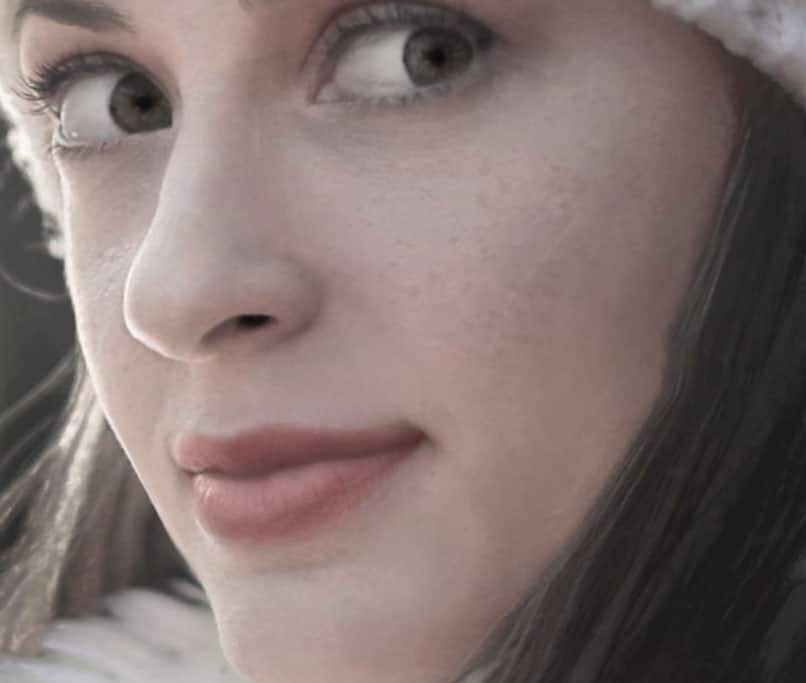 Hi, I'm Hollie, and I own BeautywithHollie.com. I love everything to do with beauty and love sharing my knowledge, advice, and beauty finds! Makeup and beauty are here to enjoy, and Beauty With Hollie is here to take the stress out of it!
---
---
Anastasia Beverly Hills bareMinerals Benefit Cosmetics Bobbi Brown CeraVe Chantecaille Charlotte Tilbury Clarins ColourPop Dermalogica Dior Dyson e.l.f. Cosmetics ELEMIS Estée Lauder Fenty Beauty First Aid Beauty Fresh Giorgio Armani Hourglass Jane Iredale L'Oreal Lancome La Roche-Posay Laura Mercier LORAC MAC Makeup Revolution Maybelline Morphe Nars Natasha Denona Neutrogena NYX Origins Peter Thomas Roth Revlon Sigma Beauty Smashbox Stila Tarte Cosmetics The Ordinary Too Faced Urban Decay YSL
---