What's the Tea? Shane Dawson and Jeffree Star Collab- Conspiracy Collection Review
For the last two months, the Shane Dawson and Jeffree Star Collab has been making waves throughout the internet. Not only because of their fabulous makeup collaboration- the Conspiracy Collection, but also because of their 7-part documentary, The Beautiful World of Jeffree Star, and The Beautiful World of Shane Dawson for the finale. And if you haven't heard of it, where have you been?!
Shane Dawson has been killing the Youtube game for a long time now but has since emerged again last year with his documentary-style videos about Youtube personalities. One of his viral series is with the controversial beauty mogul, Jeffree Star. Their videos in the previous year hit almost a hundred million views and their 7-part collaboration this year has done incredibly well too. So what is the deal with this series?
Despite the questionable reputation of Jeffree Star, his makeup business has been thriving. With all the past controversies and drama around Jeffree Star, one can assume that this series is just a "redemption campaign" for him. Well, who knows? Jeffree Star may or may not have redeemed himself with the Shane Dawson series. While the documentary itself isn't cinematically the best, it's still good entertainment content. And sometimes that's what matters!
Disclaimer: As an Amazon Associate I earn from qualifying purchases on Amazon and other affiliate programs. This means on some purchases, I make a commission. It doesn't mean you spend more, it simply allows me to keep this blog going!
The Beautiful World of Jeffree Star series is all about the ins-and-outs of the Shane Dawson and Jeffree Star's Conspiracy Collection. What's a good series without a little drama (and wherever Jeffree goes there is drama)! They also covered the robbery in Jeffree Star's makeup warehouse and the heartbreaking loss of his pets.
The main part of the series is focused on the actual makeup collaboration. It includes the process of making the palettes, picking out shades, the launch date and everything in between.
What's particularly remarkable about this series is that anyone can appreciate their documentary as it explores the business side of makeup, the creative process and as mentioned the process of making a makeup line. And if you like their humour, then you will be entertained too.
I like that they show different samples of the packaging design, and the process of deciding which one to go for. It is also nice to see the amount of time and effort that went into their products and how fitting the products are to Shane Dawson's brand as well as Jeffree Star's.
Another thing that I appreciate with this collaboration is that they were both so hands-on during the process. We often see collaborations where the influencer has very little to do with the actual product, all they do is slap the influencer's name on the product. Not the case here!
On the series, you will see that Shane and Jeffree come up with the names of their products pretty swiftly. You will see them spurt ideas to each other and burst out whatever pops into their heads with their little banter here and there.
For their eyeshadow palettes, they have names like "What's The Tea?", "My Pills", "Cancelled" and "Exposed". I think they speak for themselves! Their liquid lipstick shades are named after the most important people in Shane's life including his fiance Ryland, his cameraman, Andrew and of course, Jeffree Star himself. You can tell how personal and true-to-self the collection is. Whether you're a Shane Dawson fan or merely a makeup enthusiast, I am pretty sure you will be amused with the shade names and in addition, the fun symbols that are stamped on them!
Since then, they have also come up with their makeup collection compromising of 2 eyeshadow palettes, 6 liquid lipsticks, a gloss, and a lip balm. Not forgetting the merch they have also put out, with the ever so famous Pig Mirror, tracksuits and bags that are adorned with pig symbols to represent Shane.
With all that said, I know you've been dying to see their makeup collaboration. Let's dive right into the Conspiracy Collection!
The Conspiracy Palette has 18-shades featuring both neutrals, bright & pastel colours with matte, metallic and foil textures. The packaging and the details are incredible and you can easily tell that it is well-made. The top of the palette is slightly raised triangularly with Conspiracy and Shane Dawson's logo embossed on it and it has two-lock closures similar to the Blood Sugar palette. It also has a full-sized mirror which is very practical. One thing you can appreciate with Jeffree Star's brand is its creative packaging and the extremely well-made feel and look to their products.
Jeffree Star Cosmetics has a great reputation when it comes to their products especially eyeshadows, and this palette doesn't disappoint.
All 18-shades have great pigment that is buttery and soft to touch. The softness of the eyeshadows makes my makeup-heart flutter, we makeup lovers know that all too well.
The first row has neutral shades that you can use as transitioning shades, such as Tanacon & My Pills or even solely by itself for a lighter, more natural look.
The other two rows feature pastels as well as bright and bold shades namely Cheese Dust and Food Videos, bright orange and neon yellow, respectively. Shades like Trisha, a bright metallic pink and Flaming Hot, a matte red are some of the fabulous colours.
Other metallic and foil shades on the palette will give you goosebumps as you swatch them (good goosebumps, that is!). The metallics like the 'Diet Cola' and 'Just A Theory' will look on fleek on your inner eyelids. They will make your eyelids pop and give that stunning highlight to finish off your look.
The neon yellow, Food Videos, so far has been underwhelming, it doesn't come out as pigmented as some of the other shades. You may have to really prep and prime your eyelids first before applying it.
For anyone who loves creating creative looks, this palette is versatile and unique. You will be able to create a daytime friendly look and even the most avant-garde makeup looks out there. If you want to experiment and add a little oomph to a dull look, you could easily use one of the bright shades to add a pop of colour.
There is some fallout when applying the shades. You can also always lay a tissue under your eyes to catch fallout or you can do your base after your eyeshadow. I also find that with most palettes, the colours blend better when you prime your eyelids first. Check out my number 1 recommended eyeshadow primer! It has never failed me!
The Mini Controversy was made to accommodate some of the shades that didn't make it to the Conspiracy Palette. It does have a repeat shade from the Conspiracy, Diet Root Beer, but that's ok as it's a transition shade. The Mini Controversy Palette has a simpler packaging that the Conspiracy Palette because it was made to be easier for when you're out and about.
It is a 9-pan palette, so considerably smaller, hence the name 'mini'! It has a static and holographic design on the cover. There is also a mirror on the palette which is a must for when you're out.
The main vibe of the palette is similar to that of the Conspiracy palette. They both feature shades that are bright, pastel and neutral. The texture has the same soft and buttery feel to it and the colour payoff of each shade is impeccable.
If you like your purples and blues, the Mini Controversy will give you just what you need. Shades 'Cancelled', a light blue matte and 'Controversy', a purple are just two of the fun colours included in the palette. They also have pretty pastel colours' 'Flat Earth' a light baby blue and 'Exposed' a light lavender shade. You can include these in your everyday eyeshadow look to add a subtle pop of colour It's a good starting place for anyone who's afraid of bright eyeshadows. 'My Boyfriend's Purse' makes a lovely highlighter.
In the last episode of the series, they announced that they will do a little change up with the Mini Controversy Palette, as a fan-demanded green shade will replace the Diet Root Beer in the palette, it will be named "Put it Back!". It will be released sometime next year and if you are one of the people who was awed by that green shade, get ready for its comeback!
The Shane X Jeffree Velour Liquid Lipsticks comes with 6 different shades. They feature both metallic and matte textures. The lipstick shades are quite different from the norm, which can be overwhelming for people who just want an everyday wearable shade. I personally don't think this is the most cohesive and wearable range of colours. However, they've been a sell-out so I guess some people are loving them! In my opinion, there are only two shades that are really wearable for every day, 'Are You Filming?' and 'Jeffree, What The F*?'. The metallic options seem to be great toppers instead of a stand-alone lipstick. But if you do like unique and bold shades and want to rock it, then go for it!
Aside from the wacky and wonderful colours, I have been really impressed with them! They are light and comfortable on the lips and apply smoothly and easily. The colour payoff for their lipsticks, especially their mattes, is exceptionally and stunningly opaque! As much as a lipstick claims to be non-drying, especially matte lipsticks, it still does have a tendency to give you dry lip so make sure you moisturise before!
Shane X Jeffree Velour Liquid Lipsticks Colours
Shane: This is brown-undertone gunmetal metallic. One of the more interesting colours in the line I'd say! It may not be your gig, but it gives a beautiful vampy look and has a gorgeous shine to it. It is a little difficult to get an even application with this one and you may need to work with it a little bit more. However, the end result is pretty spectacular! If you want to rock this shade, go get it!
---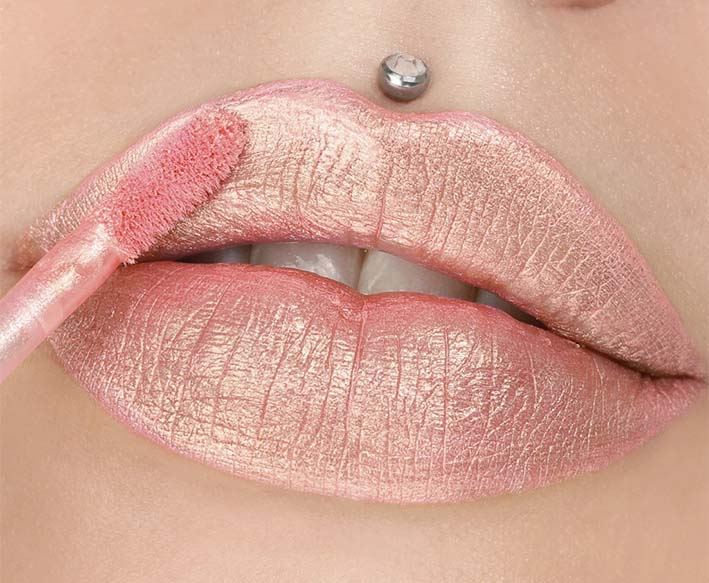 Ryland: A beautiful baby pink with a shimmer of gold glitters. This is such a pretty colour, however, it can look a little crazy and tend to wash you out especially those with lighter skin tones. Alternatively, you can use wear it as a lip topper to pair with your favourite lipstick, or you can match it with a darker lip liner to give it some dimension.
---
I Gotta Go: This is a gorgeous copper-toned metallic. It's one of those colours that you can get away with using for an everyday look even though, it is definitely not subtle. Unlike the Shane shade, this has a better colour payoff. This beautiful shade will definitely amp up your makeup any time of the day or night!
---
Are You Filming?: This lipstick is a neon flashy bright-red matte. In all honesty, the shade of red is stunning and I'm sure it will look gorgeous on anyone. It will look great for a date night and it would make the perfect finish for your look this holiday! With just one dip, it will give you a stunning opaque colour. If you love your reds, you should definitely add this to your collection.
---
Jeffree, What The F*?: This is a beautiful hot pink matte, which would be a lot more beautiful without the f*! This shade will give you a stunning opaque, not only does it have great pigmentation, it feels lovely on the lips and will certainly last you all day. This lip colour gives off a bold Barbie vibe! Pair it up with any neutral eyeshadow look and you'll be good to go.
---
Oh My God: Although this baby pink is a beautiful colour, many people will not be able to pull it off, because similar to Ryland, it can wash you out. Those of you with darker skin tones can definitely pull this off, and it can look really striking. For those of you with lighter skin, you can pair it with a darker lip liner or use it as a highlight shade on the centre of your lips mixed with other darker shades. Some people did have problems with this shade settling in the lines of their lips so I highly recommend using a base!
---
The Gloss: Shane Glossin' is in a wand-like container similar to the Jeffree Star Concealer packaging, with a gunmetal black wand. It has a diet root beer scent that won't really linger so you don't have to worry if you do not like the scent. Although this gloss is your standard clear gloss, what sets it apart is, other than the superb packaging, its quality is bang for your buck. Don't we just hate glosses that are sticky and leave unsightly lines when we open our mouths? With Shane Glossin' it instantly leaves your lips feeling moisturized and it is one of the most comfortable, non-sticky glosses out there.
This Lip Balm didn't make an appearance in the series because Shane wanted to cut down the products he wanted to show in the series. According to their site, this lip balm is a new formula for the Jeffree Cosmetics, it has good-for-you ingredients like shea butter and vitamin E. It has a scent of a diet root beer, which is Shane's favourite soda and we have seen it make an appearance in their eyeshadow palette as well. In all honesty, whilst the lip balm looks nice, I would rather stick with my holy grail lip balm!
The Beautiful World of Shane Dawson Finale
The launch of the Conspiracy Collection on November 1 this year, had literally broken the internet and it is one of the biggest launches in makeup history to date! With the customers flocking in to get a piece of the most sought after makeup line, they were able to sell out online within minutes despite both their sites, as well as their retailers crashing. How insane is that?
Anyone who's heard of Jeffree Star will know about his controversial past, and the dramas around him. If you could get past all that, then I highly recommend his documentary. He gives important notes and insights about business, dealing with major brands and signing contracts. There are tons of tips that you should take note of when dabbling with a makeup business or even other businesses. There's something to learn for everyone!
Truly, their series is one-of-a-kind in the beauty world. The intimacy that they created with the series will definitely attract those who like seeing and knowing the behind the scenes of a makeup production. Not only is it relatable, but it is also a smart marketing strategy for them!
Since their finale, they have been hinting about a possible second collection which we're definitely going to tune in for. As for the prices, well you're obviously paying for the creative packaging of Jeffree Star and the impeccable quality that they produce with every product. In the series, Jeffree Star explains everything about the price of his products, which I think is very reasonable.
Frankly, the products themselves are not innovative and never seen before, but the packaging really elevates the intriguing factor of their collection. They can be a great collector's item for makeup enthusiasts, especially with all the buzz that it created for the makeup industry.
The colour range for their collaboration is unique, which will force anyone to think out of the box and get creative with makeup. That's awesome, especially for aspiring makeup artists and any creatives artists. Personally, I think the liquid lipstick colour range could have been a little bit better and showcased more wearable colours that can still be unique.
I love how personal the Conspiracy Collection is to Shane Dawson and he did wonderfully as a newcomer in the industry. As for Jeffree Star, he is a brilliant businessman and has one of the most reputable makeup brands.
What do you think? Have you watched the series? What products from the Shane Dawson and Jeffree Star Collab are you the most drawn to? Let me know your thoughts in the comments below!
The Jeffree Star x Shane Dawson Conspiracy Collection can be bought from Beauty Bay
Happy Holidays!
Hollie xx
---
---
Anastasia Beverly Hills Benefit Cosmetics Bobbi Brown Chantecaille Charlotte Tilbury Clarins ColourPop Dermalogica Dior Dyson ELEMIS Elf Cosmetics Estée Lauder Fenty Beauty First Aid Beauty Fresh Hourglass Huda Beauty IT Cosmetics Jane Iredale L'Oreal lancome La Roche-Posay Laura Mercier LORAC MAC Makeup Revolution Maybelline Molton Brown Morphe Nars Natasha Denona Neutrogena NYX Origins Peter Thomas Roth Revlon Sigma Beauty Smashbox Stila Tarte Cosmetics The Ordinary Too Faced Urban Decay YSL
---