There couldn't be a more suited palette for this time of year than the Too Faced Chocolate Gold Eyeshadow Palette. Everything about it screams 'tis the season. From the packaging to the colours and the textures. This new Too Faced palette is surely a winner, to simply put it, its WOW! A must have for every Christmas stocking!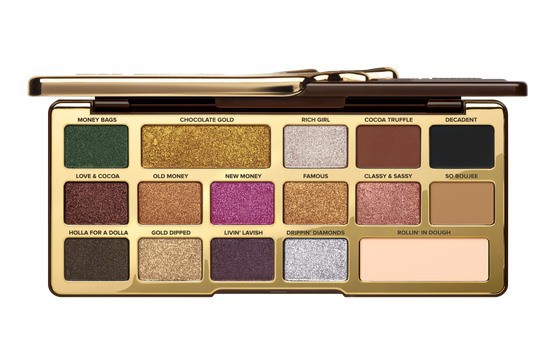 The Chocolate Gold Eyeshadow Palette
If you're a Too Faced lover, then surely you would have been a little disappointed by their previous release, the White Chocolate bar. Not that it's so bad, but it just doesn't have that stunning feel to it that all the best palettes have. However, don't be too disappointed about that because the new Chocolate Gold Eyeshadow palette surely makes up for it. With it's stunning combination of colours, along with the extra dazzle that it has, it's sure to make anyones heart beat faster.
The palette consists of mainly metallic colours with a couple of matte ones making it the perfect palette for the holidays. The palette is made with 100% natural cocoa powder and real gold! Yup, that's real gold! The gold gives the palette that extra sparkle which it does amazingly well! The cocoa gives the eyeshadow the most delicious smell:) It hard to refrain from tasting:)
The Palette is very easy to use, the shades, are all really soft and velvety, not at all irritating on the skin. They are very easy to apply, with just one swipe of the brush you will have enough shadow on it. There is little fallout too.
I love how the palette is so well thought out. Usually glitter palettes don't include matte colours and that's annoying because even if you're going for a whole glam, shimmery look, one always needs a matte base and the option of a matte eyeliner. The Chocolate Gold palette has 4 matte shades, a black, a brown, a taupeish colour and a nude base colour. The nude colour is double the size of the other colours which, again shows how they thought of it all. The base colour is always the shade to be used the most and therefore, finished the first, so Too Faced has given double of it!
This palette is really an all-in-one palette. It's perfect for taking on holiday with you! You won't need to shlep another palette with:)
My Thoughts
I love this palette, I'm not sure how many opportunities I would get to use such a glittery palette, since I don't get out too much these days (Mom life:)), however, I do love it! I think its perfect for those who do get out more than me and of course it is so much fun to play around with it. If you're looking for a party palette this Chocolate Gold Eyeshadow Palette is a winner!!
Chocolate Gold Eyeshadow Palette Can be bought at toofaced.com for £39/$49
Happy holiday shopping:)