Lunar Beauty Spring-Summer Moon Prism Collection Review
Lunar Beauty has just released the exciting new Moon Prism Collection! It's full of beautiful colours and beautiful products that I can't wait to share with you in this review!
Summer makeup is more about cheek makeup than steamy, alluring eyeshadows. In the heat, comfort comes first! And so I decided to check what's new for cheeks in the beauty world.
As I was browsing, I came across the Lunar Beauty Moon Prism Collection and what a gorgeous collection it is! This is the first Lunar Beauty product that I've actually tried and, it was a welcome experience.
The new Lunar Beauty Moon Prism Collection endearingly caught my attention with their new Spring-Summer addition composed of a blush palette, three lip glosses and 4 highlighters.
I'm reviewing the blush palette and lip glosses. My first impression of this collection is how pretty it is!
The Packaging
Blush Palette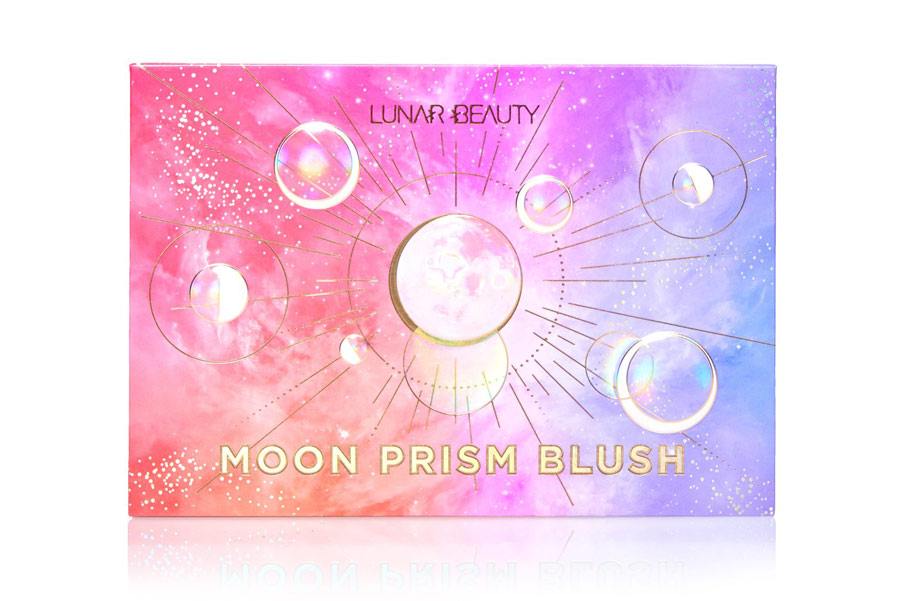 The blush palette packaging is cute and fun! Everything about it tells me it's worth some shelf space. It has a cardboard packaging with a pink and violet ombre design and it's brocaded with circular moon patterns and gold lining. Very lunar appropriate.
When opened, the back of the lid is a mirror that almost takes up all the space. It's a big mirror, which is something I always look out for in palettes. I find it kinda cheap when brands release palettes without a mirror inside.
Inside there are 6 blushes for the cost of $35, or almost £30 when converted. I think it's a steal deal since the blushes are typically the size of what you'd get from single packaged ones.
Lip Glosses
The glosses come in Lunar Beauty's standard lip gloss packaging, an ombre-white coated glass bottle, with an opaque white plastic cap and a doe foot applicator. It's classy and simple.
For this collection, the box the glosses come in is white cardboard embossed and brocaded with geometrical shapes. The inside of the cardboard is printed black with star patterns and an image of the moon on each end of the box flaps.
It's very pretty, clean and it has so many design elements while still giving over a simple impression. They sure have a good designer!
Formula & Application
Moon Prism Blush Palette
There are 6 shades in the blush palette. Five mattes, and one dual tone shimmer shade.
Pink Moon – Pale pink colour in a matte finish
Twilight – Bright coral orange in a matte finish
Spacey – Deep terra-cotta in a matte finish
Soleil – Rose coloured shimmer with gold reflect
Stargaze – Dusty rose in a matte finish
Gravity – Deep toned cinnamon in a matte finish
The blush palette is really pretty. At first glance, they looked like typical blush colours but when trying them out I noticed they had more depth and tone to them. They are absolute universal shades that go well for any makeup and skin tone, yet still, look unique on the skin.
Unlike some blush palettes, this one is not monotonous, each shade is unique, not dupes of each other. These are shades that you would typically buy separately to complete your needed range of colours. Definitely a worthy investment!
All the matte shades feel very silky when swatched and worn. Lunar Beauty's Manny MUA said the blush palette has a sheer yet buildable formula, and he is right.
What I love about it is, that despite the floaty pigment, it packs onto my brushes with just one dab on the pan.
Soleil, the only shimmer shade on the palette, is a favourite. I guess rose gold isn't going to retire anytime soon because it proves to be a really complementary colour for many.
Soleil is a rose shade with gold undertones and a shimmer finish. If worn correctly, the gold undertone shimmers, making it the perfect highlight for your cheeks.
All the shades went on beautifully and seamlessly. They are also very easy to blend. Spacey and Gravity which are meant for medium and deeper skin tones worked just fine on me too.
It's a really versatile palette that would work well on most skin tones! If you're up for a bit of fun, you can try them out as eyeshadows!
Moon Prism Lip Glosses
The collection brings back the Lunar Beauty Selene lip gloss and introduces two new permanent shades as well. None of the shades contains any fragrance, but don't worry, they are still appealing to wear!
Moon Lip Gloss – Pale nude gloss with slight pink undertone
Starlight Lip Gloss – Medium-tone pink with multicolour reflective glitter
Selene Lip Gloss – Translucent gold gloss with high reflective glitter
In With The Old, In With The New
The Selene lipgloss is an old shade of theirs which Lunar Beauty has included in their new release. It is sheer reflective gold and peach lip gloss that, in my opinion, wears amazingly on lipstick.
On a nude lip, I'd say it's so-so. It's not as reflective as the glosses that we have in this era, but if you are into the 90s wet-oily lip look— go for it!
The Moon shade is a nude-coloured gloss with no shimmer. It almost has a wet finish liquid lip. Moon is a bit interesting because essentially it's a matte lip gloss.
Usually, lip glosses are gloss, as their name suggests but not in this case! A new concept and definitely an interesting one.
The Starlight shade is a blindingly reflective lip gloss with a slight pink tint. This can be worn on top of lipstick or on a nude lip because it is pigmented enough to cover any lip discolouration.
Final Thoughts
I really enjoyed the Moon Prism Collection and I am rooting for this blush palette! It's a palette where no shade gets left behind and is worth swapping for single blushes.
The lipglosses are great too, but I think I won't be getting them again. Honestly, I don't wear much lip gloss because if I do then I can't kiss my baby and if you would see her cheeks you would understand!
I'm more of the non-transfer, matte type of gal. That way my lips look good and I don't feel like I'm wearing anything! However, the lip glosses are really nice and you will definitely be adding a new concept to your makeup collection- a non-glossy lip gloss!
Lunar Beauty Moon Prism Collection can be bought from Lunar Beauty
Hollie xx
---
---
Anastasia Beverly Hills Benefit Cosmetics Bobbi Brown CeraVe Chantecaille Charlotte Tilbury Clarins ColourPop Dermalogica Dior Dyson ELEMIS Elf Cosmetics Estée Lauder Fenty Beauty First Aid Beauty Fresh Hourglass Huda Beauty Jane Iredale L'Oreal lancome La Roche-Posay Laura Mercier LORAC MAC Makeup Revolution Mario Badescu Maybelline Morphe Nars Natasha Denona Neutrogena NYX Origins Peter Thomas Roth Revlon Sigma Beauty Smashbox Stila Tarte Cosmetics The Ordinary Too Faced Urban Decay YSL
---