They are described as a goddess glow in a bottle, they have been so popular that they have been flying off the shelves. At one point there was even a waiting list to get your hands on one of them. Iconic London have recently launched 3 new shades to join the original one. Each one is beautiful beyond words and will give you perfectly glowing cheekbones. 
A product so popular is worth getting to know, so here is my Iconic London Illuminator Drops Review
. Let's find out if this bestseller is worth all the hype and attention its received. 
The highlighter comes in 4 different beautiful colours- Shine, Blush, Original and Glow. Shine is a pale pink shimmery colour which adds a pearly glow. This is ideal for fair skin. Blush is a warm peachy, rose colour which adds a rosy glow. Original is a gorgeous champagne colour which adds a golden shine. It is ideal for medium skin tones. Glow is a terracotta toned shimmer which adds a deep golden shine. Glow is perfect for darker skin colours. The packaging is really classy and pretty. They each feel and look like pots of gold, once you use it, you'll see its not so far off!
These 4 Illuminating Drops are the most pigmented highlighters around. They give you the most amazing shine, one that you could have only dreamt about before. The highlighter gives your face a beautiful, dewy finish. What I love is that you can add it to your favourite primer, foundation or moisturiser or it can be worn alone. You can apply it either before your makeup to create a dewy base, or you can apply it as a regular highlighter. Basically the options are endless and you can adapt the drops to however you like! 
How to Apply
Since the Illuminator Drops come in a liquid form it can be a bit tricky to apply. If you apply it directly to the face you risk putting too much on or ruining your makeup (if you've already applied makeup). I recommend applying a drop to the back of your hand and then with your fingers dab on to the desired areas. You can then blend it out with a beauty blender or a brush. One drop goes a really long way, personally I wouldn't use more than a quarter of a drop for each cheekbone. Yup, the highlight is that strong and pigmented. One tip I have for when applying is to blend it out straight away as the highlight dries really quickly.
What does it look like on?
It looks truly glowing on. You can blend it for 10 minutes straight and it still won't look sheer like most highlighters do after a while. It looks beautiful and dewy. However, even though it looks dewy it feels dry and matte, almost as if you're not wearing anything. What really stuck out to me is that when you apply it, it doesn't remove or interfere with your blush or any other products that you have already applied. It's really annoying when products don't work together. However, no need to worry because this highlighter works really well with the rest of your makeup.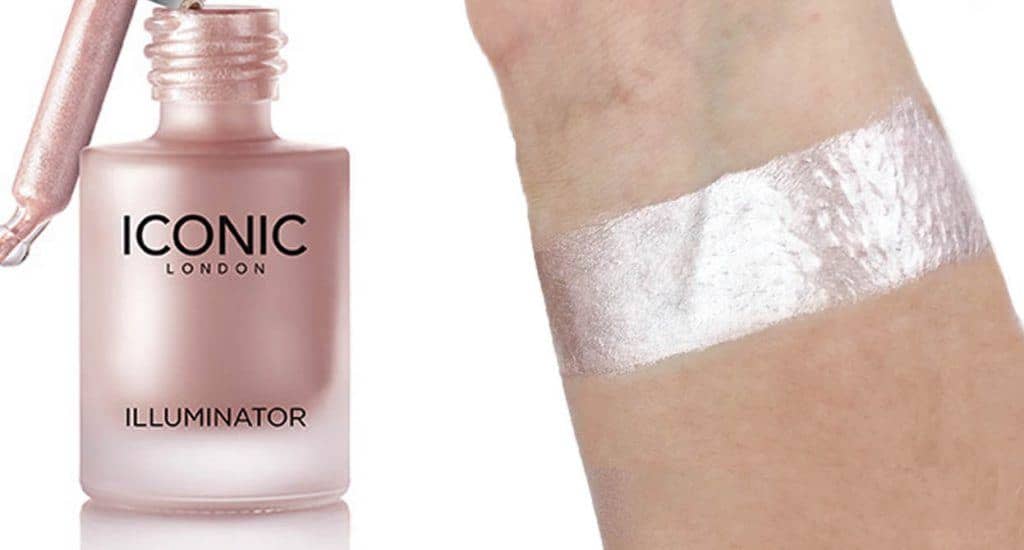 My Thoughts
I think the Iconic London Illuminator Drops are the ultimate highlighters around. They are literally pots of gold. Each drop is so highly pigmented that you only need a very little amount per use. The bottle will last for a really, really long time.
Some people have compared these highlighters to the Cover FX highlighters. However, I find these to be much more pigmented, making them levels above the Cover FX ones.
If you love a strong highlight then this is made for you, you get all the shimmer and bling with it. The glow is really out there and its beautiful. Personally, I prefer for myself a more subtle highlight, one that's not glaring at you in the face, but at the same time adds a pretty glow to the skin. However, I still love this product because when its used in small amounts it can still achieve a look that I love. The highlighter is not for an everyday work look, or Mom look, in my case. I would save this for occasions like when I need to dress up and look all glam!
I hope you have enjoyed this Iconic London Illuminator Drops Review. My overall thought is that all 4 highlighters are beautiful and probably the best highlighters around. Honestly, there's not much to critique about them. They are definitely worth all the hype that they get and they are cruelty free and vegan! They are loved by celebrities too, with the likes of J Lo, Vanessa Hudgens and Joudan Dunn, to name a few. So go and get yours before they sell out:)