At first, I was quite sceptical about the Filmstar Bronze & Glow. I've read many conflicting reviews so I kept safe and I never bought it. However, recently I got my makeup done by Charlotte Tilbury and the makeup artist used the Filmstar Bronze & Glow on my face. Well, the rest is history. I fell in love with it and bought it on the spot. Quite a splurge if you ask me;) However, totally worth it especially if you want to get those high cheekbones.
What is the Filmstar Bronze & Glow
Filmstar Bronze & Glow is a contour palette which consists of one contour and one highlighter. It comes in 2 colours, light to medium and medium to dark. I got the light to medium. The contour helps to sculpt and shape your face and to get you killer cheekbones. The highlight adds shimmer and shine to the areas you want to accentuate.
The palette is beautiful, inside and out and is in classical Charlotte Tilbury style. The palette comes in a brown/maroon coloured packaging and the palette is its trademark gold art deco style. Totally glamorous and I love it:)
Using the Palette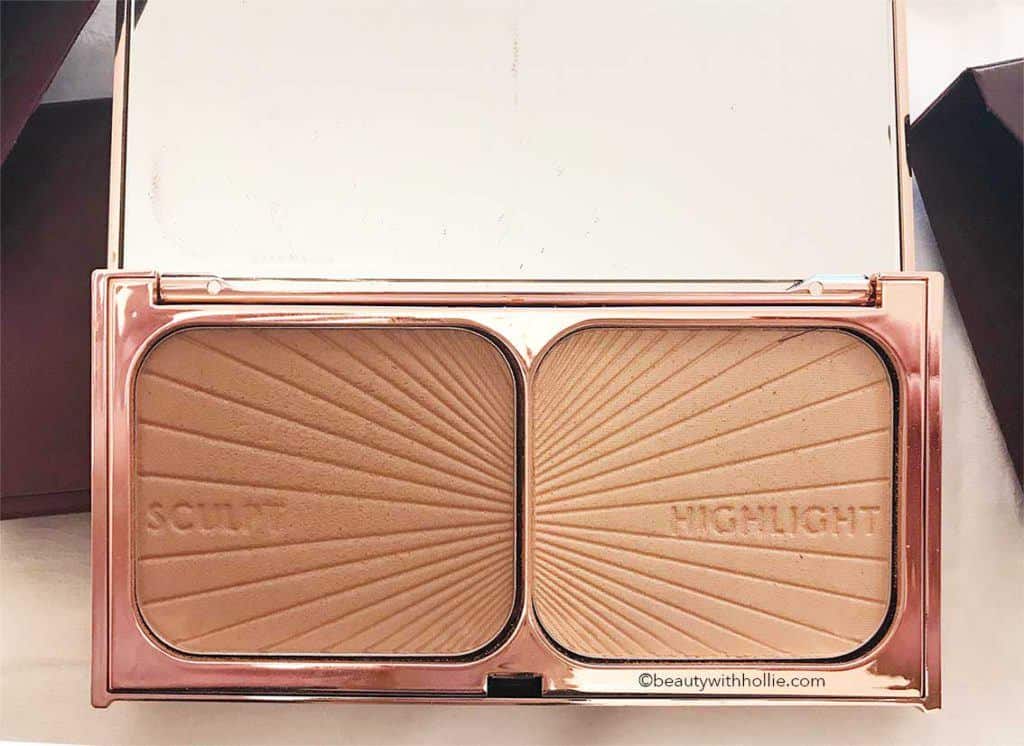 My favourite thing about the palette is that the contour colour is so subtle and natural looking. I read from a few people that they found the contour too orangey. I honestly did not have that issue at all and if you've followed me for a while you'll know that I am super pale. On the contrary, I found that if you have pale skin this contour is much easier to use. The colour is so subtle and natural looking. If you want a stronger, bolder contour then you just add layers, it is very buildable and blends beautifully with an even coverage, there's no patchyness.
The Pros and The Cons
There are pros and cons to everything in life, including the Filmstar Bronze & Glow. I'll start with the cons to get them out of the way.
The obvious one is that the palette is very expensive for what you get. But then again, you probably already know that these are the Charlotte Tilbury prices. You get quality but it comes with a price. The last con is that it's a shame the contour can't be bought separately or as a refill. Most people use the contour more than the highlighter.
Another thing that I don't love about the palette is that the contour is slightly shimmery. This is a personal preference, I always prefer my contour to be matte, you see I'm more the matte kinda girl. However, with that being said, I still love the contour because the colour is great and it's not too heavy. Also, the shimmer is nice for dressier occasions.
Is the Palette worth it?
Its a fabulous palette which sculpts the face really well. It gives you the defined features and high cheekbones that you want, without it looking like you've caked yourself in makeup. It's really easy to use and its hard not to love it! So yes, it's worth every pricey penny:)
Charlotte Tilbury Filmstar Bronze & Glow can be bought here for $68 and here for £49
Have a lovely day,