If you're looking for Christmas Gift Ideas, look no further with these awesome Bomb Cosmetics Gift Sets. They put LUSH to shame. I can just imagine the excitement on my kids faces when they use these products. If you aren't familiar with Bomb Cosmetics, now would be a great time to get to know them:) They have adorable products which also smell amazing and feel luscious on the skin!! And they are handmade and all natural! Below I've put together a few of their products that I think are irresistible:)
This festive gift pack comes with 5 amazing products.
They are:
Father Blissmas Blaster,
Santa's Hat Mallow,
Snowdrift Creamer,
Stocking Fizzer Blaster
Candy Box Soap.
The blasters and mallows are basically bath bombs that you drop into a warm bath and watch them fizz away! The bath bombs contain essential oils, and the mallow contains Cocoa and Shea Fruit Butters which are very moisturising for the skin. The soap is self explanatory and the creamer can be added to your bath to make it smell amazing, it also contains essential oils and perfumes.
The Christmas 2017 Santa's Sleigh Ride Gift Pack the perfect Christmas gift for those who love their baths:) It's also really cute and fun for children with it pretty colours and a Santa:)
This gift pack is gorgeous! The colours are so beautiful and wintery and as for the products, they depict Christmas.
This gift pack comes with:
Snowflake Chance Blaster
Chilly Willy Blaster
Snowdrift Creamer
White Christmas Mallow
Drifter Tulip.
This is one of my favourite Bomb Cosmetics gift sets of all with its festive colouring and packaging.  The snowflake Chance Blaster has all the glitter and shimmer and the Chilly Willy Blaster is a super cute snowman:) Nope you can't go wrong with this one!
Like the others, this gift pack is also irresistible. It's colour theme is based on aqua and gold. This is another Christmas winner, it even has a Christmas Tree bath bomb and a cute deer one too!
This gift set comes with:
Deer Me Bath Blaster
Jolly Holly Mallow
Baby Ur A Star Soap
The Glitterati Creamer
Oh Xmas Tree Blaster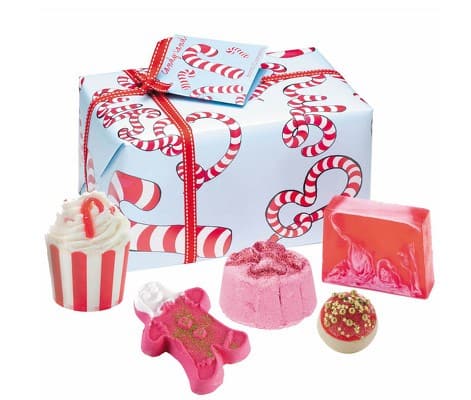 Who doesn't love candy? Well now you can enjoy it in your bath too with this fabulous gift set. My only warning with these is to make sure no one eats them by mistake  because honestly, they look totally edible.
This gift set comes with:
Stocking Fizzer Blaster,
Ruby Vegas soap,
Glitterballs Creamer,
Ginger Blaster,
Candy Cane Cocoa Swirl
Bomb Cosmetics Gift Sets- My Thoughts
I'm in love! These Bomb Cosmetics gift sets are perfect for all ages and stages. Everyone will love them. From the fun products to the gorgeous packaging there's nothing not to love. Bomb Cosmetics recommend them as gifts for her, but honestly, I think men and kids would love them too. I know my husband and kids would:) Though be aware Bomb Cosmetics products are not suitable for under 3.
These gift sets are the perfect Christmas gift ideas for those who need an all ready Christmas gift. The products come in a ready to give gift box with a blank note attached. They will put you right into the festive mood. I love how each of the gift sets are so unique in design and products, yet at the same time they all give such a festive vibe.
These gift sets are really good value for money and you simply can't go wrong with them. They also make a lovely stocking gift.
I hope these Christmas Gift ideas have helped you with your Christmas shopping. I know how stressful these last few days can get, but these Bomb Cosmetics Gift Sets are really the bomb!
Happy Shopping:)