Best Way to Stop Bad Breath, Causes and Treatments
Unfortunately, the reality of life is that we all suffer from bad breath at some point. Bad breath is also known as halitosis, it's a real thing and you don't need to be embarrassed about it. No matter whether the cause is not caring for your teeth properly or bad diet, the truth is that we all suffer from it at some point in our lives. However, don't be disheartened, with the right care and treatment, it can be a thing of the past. You may need to make a few changes to your daily routine, but they are simple and easy changes.
I will share here with you the best ways to stop your breath from smelling bad, now and for always.
Disclaimer: As an Amazon Associate I earn from qualifying purchases on Amazon and other affiliate programs. This means on some purchases, I make a commission. It doesn't mean you spend more, it simply allows me to keep this blog going!
Did you know that your tongue carries the most bacteria in your mouth? What's more, is that most people don't even know that tongues need to be cleaned. Cleaning your tongue is really easy and quick. Many toothbrushes come with a rugged back specially designed for your tongue. You simply scrape your tongue with the back of your toothbrush after you brush your teeth. Alternatively, you can use a tongue scraper to remove all the bacteria. A tongue scraper covers a larger area than the back of a toothbrush so it will be quicker to use. However, it's all much of a muchness. Both methods are quick and easy and will only add another 10 seconds to your brushing routine.
The way to tell if your tongue has a lot of bacteria is to look at the colour of your saliva after you scrape it. If your saliva has a yellowish tinge then it's time to brush up on your oral hygiene.
Brush your teeth twice a day for 2 minutes
Two minutes may sound short now, but when you are brushing your teeth it feels a lot longer. Understandably it is tempting to shorten the process a little. Bad idea. Brushing your teeth for the recommended amount of time helps to reduce the plaque from building up. Plaque buildup often causes bad breath.
A quick way to know that you are brushing your teeth properly is to brush for 30 seconds on each side, up, down, right and left.
Floss, floss and did I mention floss?
Yup, you got it, flossing is that important. Brushing your teeth alone only removes the plaque and bacteria from the accessible places. It doesn't get in between your teeth. Food that gets stuck in between the teeth turns into bacteria. The bacteria sits and rots causing holes in your teeth and eventually gum disease. And that is why flossing is so important! Removing all the food between your teeth helps prevent your breath from smelling bad.
Even though flossing does take a few extra minutes every day, it is imperative you do so, for your gum health and for fresh breath!
Use the right toothpaste
Using the right toothpaste can make all the difference in conquering bad breath. There aren't many kinds of toothpaste that tackle the bacteria itself. One toothpaste that I recently discovered and that I can't recommend enough is The Breath Co Fresh Breath Toothpaste. In the US the brand is known as TheraBreath. It may not seem impressive at first glance because it doesn't taste as minty and fresh as others. But, don't judge a book by its cover, this toothpaste will get rid of any bad breath that you have.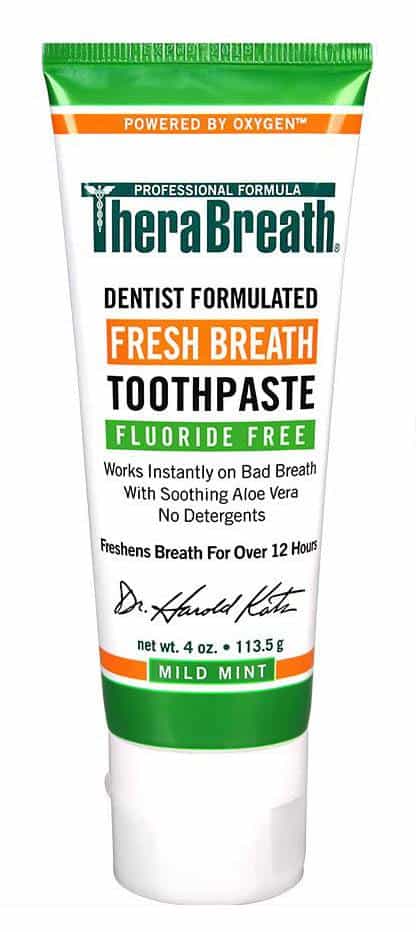 It works differently to most other kinds of toothpaste because it attacks the actual bacteria instead of covering it up with a fresh smell. With The Breath Co Fresh Breath Toothpaste, you will be rid of the source of the problem. It attacks the bacteria through the natural power of oxygen which is what the bacteria runs away from, however, it can't run away from this toothpaste because it gets to all the germs even the ones hiding.
Disclaimer: (despite its embarrassment!) I personally have been using this toothpaste for a while now and it has really helped my breath to be fresher and stay fresher throughout the day.
Ditch the cigarettes
For those of you who smoke, I get that this is easier said than done. I know from some of my family members that sometimes it's close to impossible to give up smoking. However, with the right tools, there is a way to do it. Not only will it help your breath smell better, but it will also save your lungs. It's a win-win all around.
Prevent your mouth from getting dry
When your mouth is dry it means you haven't been producing enough saliva. Saliva is necessary to moisten the mouth and essentially wash out the bacteria and germs that live there. Obviously, saliva doesn't replace the job of toothpaste, but when your saliva is working, chances of bad breath are reduced. Think of your morning breath, it's a lot due to a decrease in saliva during the night. If you suffer from a dry mouth then make sure to drink extra fluid during the day. It will make your mouth feel more pleasant and lessen any bad breath.
Visit the dentist regularly
It's always good to check in with the dentist once a year to make sure everything is ok. Sometimes all you need is a little advice from the professional to get the problem solved. You also want to make sure your gums are healthy and in proper shape.
If the problem persists…
If you have tried everything and you still have bad breath perhaps it's time for a visit to your doctor. Sometimes bad breath can stem from a more serious medical condition and it's your body's way of telling you that something is not right.
My Thoughts
I hope you have found a treatment here that has helped you have fresher breath. Having bad breath can be very embarrassing and it can cause some bad anxiety. However, I hope from this article you can see that it doesn't have to be so. These are the best ways to stop bad breath for good! You will have more confidence now and you will no longer need to shy away from people!
Let me know in the comments below which tip worked best for you!
Hollie xx
---
---
Anastasia Beverly Hills Benefit Cosmetics Bobbi Brown Chantecaille Charlotte Tilbury Clarins ColourPop Dermalogica Dior Dyson ELEMIS Elf Cosmetics Estée Lauder Fenty Beauty First Aid Beauty Fresh Hourglass Huda Beauty IT Cosmetics Jane Iredale L'Oreal lancome La Roche-Posay Laura Mercier LORAC MAC Makeup Revolution Maybelline Molton Brown Morphe Nars Natasha Denona Neutrogena NYX Origins Peter Thomas Roth Revlon Sigma Beauty Smashbox Stila Tarte Cosmetics The Ordinary Too Faced Urban Decay YSL
---