Yay! I simply LOVE new products! Yup, I am a self-confessed beauty junkie. I just can't get enough;)) I have put together a few of my favourite products, which honestly, I really enjoyed doing. Each of these products will help you to look and feel more beautiful. Don't forget to let me know your favourite product:)
Estee Lauder Advanced Night Repair Eye Concentrate Matrix
Advanced Night Repair Eye Concentrate Matrix is an ultra-nourishing eye concentrate that strengthens, fortifies and repairs the delicate skin all around the eye area. It is very hydrating and lasts for 24 hours. Long term, the look of lines, wrinkles, puffiness, dark circles, and uneven skin tone is reduced dramatically. It includes a custom-designed massage applicator to enhance micro-circulation around the eyes. After using it only a couple of times I can already say that I love this product. I have really dry, itchy and sensitive eyes, but with this night repair the skin around my eyes feels so soft and honestly, there are fewer lines. The magic doesn't happen overnight but over a few weeks you will see a noticeable difference. Your eyes will feel firmer, smoother and your dark circles will be less visible. It also is non irritant so is perfect for sensitive skin.
Advanced Night Repair Eye Concentrate Matrix isn't out yet in the UK but you can get it from the US store here for $69
Too Faced Born This Way Concealer – 6 new shades
This is the classic Too Faced concealer. It's one of the best concealers around and I'm really excited because they have just added 6 new shades. If you've been following my blog for a while you'll know my skin is really fair and I often have a hard time getting the perfect shade. They have now brought out a colour called fairest which is perfect for my skin tone:) The other colours they added are light nude, medium nude, cool medium, warm medium and very deep. This is something I feel quite passionate about – if you bring out such a great product like this one then why not make it in a lot of colours so that everyone can benefit from it. So Kudos to Too Faced for doing just that:))
Too Faced Born This Way Concealer – $28 or £20 Too Faced
(They offer free worldwide shipping for a limited time so take advantage!)
Too Faced Glitter Bomb Prismatic Glitter Eyeshadow Palette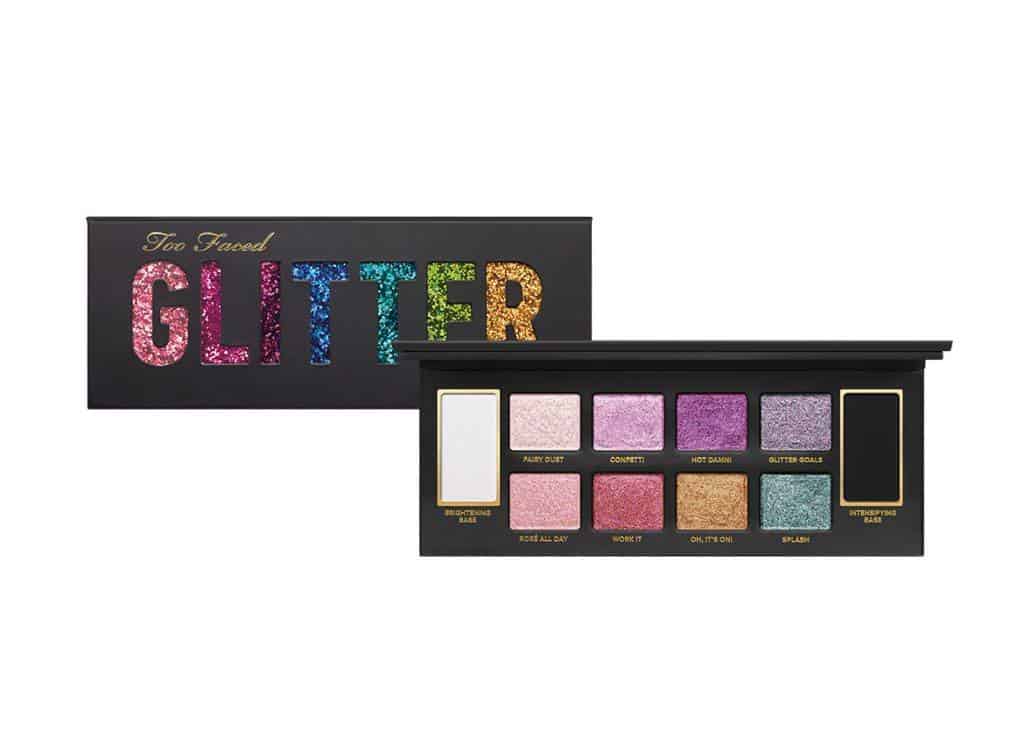 Yup, another Too Faced product- I'm a fan;) After seeing this pretty eyeshadow palette there was no way I could keep it out of my monthly favourites. If you love glitter then this is a must have for you. It's got 8 glittery colours which are highly pigmented and 2 base colours which can be used to intensify or brighten the eyes. You can use it to add a shimmer to your eyes or you can apply it wet for a more defined finish. If your eyes crease easily perhaps use a glitter glue first or alternatively, just use it wet. This is a dream glitter palette and did I mention the packaging? It's seriously pretty! This palette is a limited edition so go and get yours before its sold out!
Too Faced Glitter Bomb Prismatic Glitter Eyeshadow palette-  $45 or £33
(They offer free worldwide shipping for a limited time so take advantage!)
Lancome Matte Shaker Liquid Lipstick
This lipstick actually isn't a June product- I think it came out mid-May but it's super cute and and a really good lipstick too, so I decided to include it anyway. There are 7 different gorgeous shades of pink and reddish colours, some bright and some nude. The packaging is modern and original – for that reason alone its worth buying it;) The lipstick is matte but it doesn't dry out the lips or make them appear flat like a lot of matte lipsticks tend to do. It's incredibly long-lasting and with the unique applicator it's mess-free. It's also really comfortable to wear, it barely feels like you're wearing anything.
Lancome Matte Shaker Liquid Lipstick- £19.50 John Lewis 
Bobbi Brown Skin Wrinkle Treatment
This concentrated treatment smoothes plumps and repairs the skin. It tackles ageing by filling in surface lines and visibly plumping wrinkles for a smooth, even complexion. It also stimulates the production of collagen. With it only released this week I haven't been able to use it that much. However, after using it for a couple of days my skin feels so much smoother. I would like to see how it feels after a couple of months. This definitely looks like a keeper!
Bobbi Brown Skin Wrinkle Treatment – £29.50 John Lewis 
That's it for now. In my humble opinion these are the best new beauty products around! I hope you have enjoyed reading about them. If you've already bought them let me know what you think? If not, which one would you most likely buy? Let me know in the comments below:)