Beginners Makeup Guide for all Ages with Tips & Tricks!
If you're new to makeup, there's a high chance you're overwhelmed. There are so many different products to choose from that it can be really confusing. What do all these products do? Which ones are worth investing in? What's the difference between everything? Lots of questions! I know the feeling because believe it or not I was also once new to makeup;) Everyone begins somewhere! In this beginners makeup guide, I will cover all the basics that you need to know including the different products and what they do.
Beginners Makeup Guide for all Ages
The base for all makeup
Before applying any makeup you need a clean slate. Once you have cleansed and moisturised your face, you can apply primer. If you want fewer stages you can skip the primer, providing you're using a good moisturiser. The difference between moisturiser and primer is that moisturiser softens and rejuvenates your skin making it look younger and healthier, whereas, primer helps your makeup stay on longer and better. It's very important to prepare your face well because what you're essentially doing is creating a layer of protection between your skin and the makeup.
---
Makeup for the face
Foundation – This is applied all over your face to make your complexion even and smooth.
There are a few different types of foundations, the main ones are liquid or powder. If you have dry skin I recommend using a liquid foundation, simply because a powder foundation will dry your skin out more. For all other skin types, you can choose whichever one you prefer. Liquid foundation can leave your skin looking a bit dewy so if that bothers you I recommend trying a powder foundation. I personally prefer liquid foundation because I find it looks more natural on my skin.
When choosing a colour for your foundation match it to the colour of your body, not your face or your neck. Also, make sure your foundation has SPF included.
Avoid ingredients like petrolatum and isopropyl palmitate as these tend to clog the pores. (My favourite foundation at the moment is Lancome Teint Idole, it's so lightweight and applies flawlessly.)
If you want to skip foundation you can use a tinted primer/moisturiser instead which is lighter to wear than foundation.
The best brush for applying foundation is a duo fibre that has white tips. You can also use a sponge or a silicone makeup applicator but if you're new I recommend sticking to a sponge or brush which are easier to use.
Concealer – Once your foundation is applied, it's time to cover up any dark circles and blemishes that you may have with a concealer. You can either use your fingers or a brush to blend it in. Check out my post on the best concealers for dark circles.
If you use a liquid foundation it is always nice to top it up with a finishing powder or setting spray to take away the shine and help it last longer.
---
Adding colour and depth
Now that you have a smooth and even canvas to work with it's time to add some colour and depth! There are many different ways to do this. I will go through the basic steps.
Contouring – This is a relatively new way to apply the definition to your face. The main area to contour is on the hollow of your cheekbones to help them stand out. Other common areas are the top of your forehead and the sides of your nose. When contouring, make sure you blend it in properly otherwise it can look kind of off. There are powder and cream contours available depending on your preferences.
Bronzer – If you want a bit of a tan, this is the way to go. You can buy a shimmer or matte bronzer. Apply lightly over your face with more stress my your cheekbones.
Blush – Apply blush to the apples of your cheekbones extending up to your temples to add some warmth to your face.
Highlighter – Some like to apply highlighter after the contour. I like to do it at the end. Apply highlighter above your cheekbones below your eyes. It adds a beautiful shimmer and is the perfect finish for a party or evening look!
---
Eyes
The most fun part of makeup is eye makeup! From smokey looks to winter and colourful looks, the sky's the limit when it comes to eye makeup. Let your creative juices out and have fun with the many different looks you can create.
Primer – Before applying eyeshadow, always use an eye primer. It keeps the eye makeup in place the whole day without any creasing or smudging. It's like the glue for eyeshadow!
Eyeshadow – There are many different types of eyeshadows.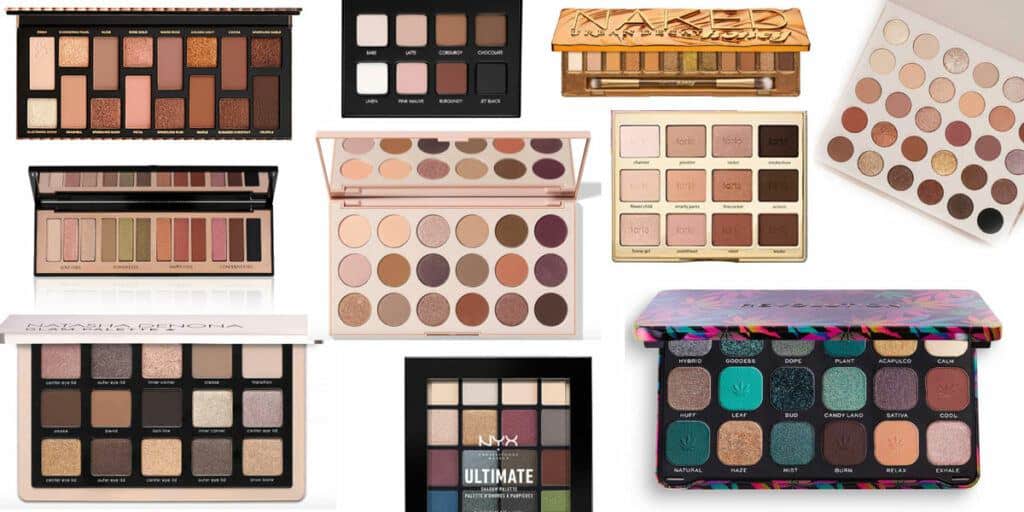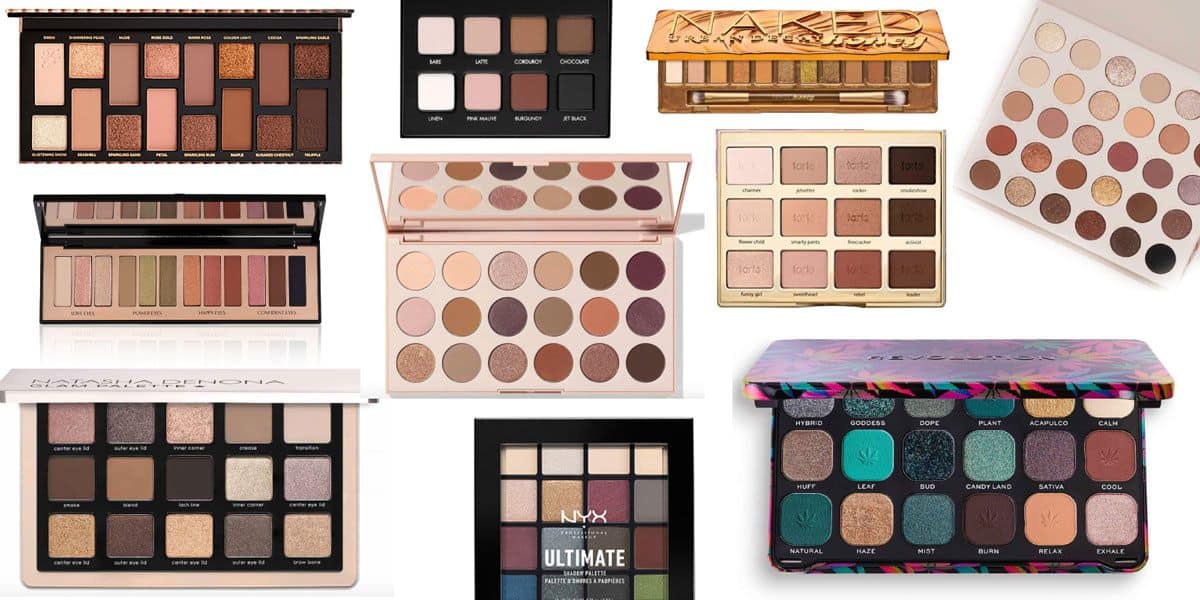 There are liquid eyeshadows that look a little like lipgloss. The disadvantage of these is that they are a little tricky to apply and prone to flaking. Also if you have oily eyelids, they are more likely to cause creasing.
Another option is a cream-based eyeshadow but these are hard to blend and are likely to smudge especially in hot weather.
My favourite way to apply eyeshadow is with powder-based eyeshadows which you can get in a matte or shimmer finish and is actually the most common type of eyeshadow.
There are also loose powder eyeshadows also known as pigments. These are usually used by makeup artists or people who are quite advanced with makeup. If you have dry skin this is not a good idea for you because it will dry your eyes out further. I don't use pigments on my whole lid, but, when I want to look fancier I add it on top of my eyeshadow. It gives the eyes a nice shimmer.
If you're looking for the easiest way to apply eyeshadow then stick/crayon eyeshadow is for you. They are also very long-wearing.
A relatively new hit is baked eyeshadows. Instead of the eyeshadow being pressed, it is baked. They are very easy to blend and they give a smooth finish to your eyes. You can use them wet or dry depending on the look you're after.
Eyeliner – Like eyeshadows, there are many different types of eyeliners and there have been many trends over the years.
I'll start with the hardest to apply which is liquid eyeliner. If you get it right it will look bold and dramatic, however, if you don't…:( If you have a steady hand and you are willing to be patient then I'm sure you'll get the hang of it.
The easiest way to apply eyeliner is with pencil eyeliner. They are very easy to use but the look won't be as sharp as with a liquid eyeliner. Nevertheless, if you are a beginner I recommend starting with this.
If you love a smokey eye then gel eyeliner is for you. It usually comes in a pot dip in an angled brush to apply the eyeliner to your eyes. They are easy to smudge making them perfect for a smokey eye look. However, they do take a while to dry so after applying wait a minute before opening your lid.
My favourite way to apply eyeshadow is using eyeshadow eyeliner. I use a regular powder-based black eyeshadow and with my angled brush I apply it to my eyes. It's quick and doesn't look too bold for an everyday look. It's my go-to eyeshadow.
Mascara – Mascaras are used to define the lashes. Most mascaras say what they do, they either lengthen, thicken or are waterproof. Most mascaras are a combination of those 3.
Another way to get perfect lashes is with false lashes. These are a little tricky to apply if you are a beginner, but again, practice makes perfect. You can either buy a full set of lashes or individual ones which means it's broken up, so you apply the lashes where you feel you need more.
Brows
This has only become a thing in the last few years. Before Cara Delevinge it was not considered fashionable to have thick brows. However, now it's all the rage and honestly, I love it. Brows play such a big role in defining the face.
The different ways to fill in your eyebrows is pretty similar to the options you have for eyeliner.
A powder eyeliner is one of the easiest and most natural-looking ways to fill in those gaps on your brows. It is also long-lasting. You will need an angled brush to do this well.
Another way is with an eyebrow pencil. This is more precise and hard to get wrong, even for beginners.
A gel is also an option. This is good for people with full brows, but for someone with sparse brows, it will just show the gaps in a clearer way. A way of solving that is by using powder first to define your brows and then use a gel to help it stay and look more realistic.
Lips
Last but not least is your lips which has a ton of options. There are lip glosses, lipsticks, lip pencils and lippie stix to mention a few. Each type of lip wear comes in many different forms. There is matte, glossy, satin, shiny, metallic and probably more that I don't know about. There is also long-wear, transfer-proof, moisturising ones and ones which are designed to be comfortable.
A clever way to keep your lipstick intact for longer is by wearing lip liner underneath your lipstick.
So yes, the types are endless but what makes it easier is that they are all clear in what they do. If you're not sure what style you want I recommend going to a shop to try out different lip wears. All makeup shops offer this service and the sales ladies are usually very nice and helpful.
One of my favourite lip wear brands is ColourPop. The only disadvantage is that they're only sold in the US and I live in the UK. But, oh well, the things we do for beauty!
---
My Thoughts
I hope you have enjoyed this article on beginners' makeup guide and I hope you have learnt that makeup doesn't have to be hard or confusing. There are many products out there, but most of them are not necessities and a lot of them are very similar to each other. Makeup is a HUGE market and there is a lot of competition but don't let that confuse you. Find what you like and stick to it!
That's the end of my beginner's makeup guide. If I missed anything or you want help with a product or technique please do get in touch, I'd love to hear from you.
Hollie xx
---
---
Anastasia Beverly Hills Benefit Cosmetics Bobbi Brown Burts Bees Chantecaille Charlotte Tilbury Clarins ColourPop Dermalogica Dior ELEMIS Elf Cosmetics Estée Lauder Fenty Beauty First Aid Beauty Fresh Hourglass Huda Beauty IT Cosmetics Jane Iredale L'Oreal lancome La Roche-Posay Laura Mercier LORAC MAC Makeup Revolution Maybelline Molton Brown Morphe Nars Natasha Denona Neutrogena NYX Origins Peter Thomas Roth Revlon Sigma Beauty Smashbox Stila Tarte Cosmetics The Ordinary Too Faced Urban Decay YSL
---