When it comes to highlighters, I don't think anyone can say they have too many. The new Becca Ocean Jewels highlighter palette is simply dazzling inside and out. When I first set my eyes on the Becca highlighter palette it was love at first sight.
The Packaging
The packaging is stunning, I am completely obsessed with it. I have always been into art and I love things that are original yet classy at the same time. The Becca Highlighter Palette is exactly that. It's inspired by ocean jewels and the packaging literally looks like a jewel with its multi-faced sides and mirrored finish. It reflects the sun in the same way that a jewel does. The inside is also done really nicely, there is a big mirror on one side with the 5 highlighter shades on the other.
What Makes this Palette Unique
Becca has taken pressed powders to a whole new level. Unlike most pressed powders the ones in the highlighter have a combination of powder and liquid which gives a much creamier feel to them. What does this actually mean? It means that the colours are easier to apply and that they blend straight into your skin. They won't ever look caked or unnatural. It also means that you won't ever look over shiny or shimmery because the colours blend seamlessly with the rest of your makeup. Often highlighters are hard to blend in and they sort of look like they are sitting on top of the skin, however, with the Becca Highlighter Palette this won't happen. The pigment adjusts to your natural colour.
The Colours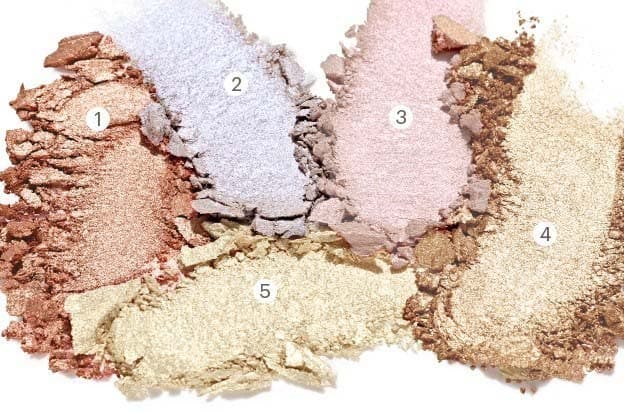 The Ocean Jewels Highlighter Palette comes with 5 colours. They are:
1. Coral Crystal – A shimmering pink-peach colour which is infused with white gold pearl
2. Aquamarine – A cool blue with a touch of purple
3. Pink Pyrite – A shimmering pink infused with gold pearl
4. Sunstone – A sandy beige infused with gold pearl.
5. Citrine – A shimmering pale yellow infused with gold pearl
The colours can be worn alone or all together. They complement each other perfectly. To wear them together simply swipe the brush across all the colours and apply to your face. Personally, I'm more of a perfectionist when it comes to my makeup (and everything else too!), so I like to make sure both sides are exactly the same. this is slightly harder to achieve when using 5 colours so I like to stick to one at a time. However, I can totally see some of my friends loving the 5 colours altogether. It depends on your style, but both work great and look brilliant on. The colours can also double up as other makeup, for example, Pink Pyrite looks beautiful as a blush too, and all the colours can be used on top of eyeshadows.
My Thoughts
I love how versatile the palette is. The colours are beautiful and they look really natural on the skin. In fact, they are exactly like their claim, the colours simply blend into your skin and match your natural tone. I may not get round to using all of the colours on a regular basis but most of them I would use for an evening out or a party. The shimmer is perfect, it's not too overpowering and out there, it's more subtle, yet still gives you a beautiful shine!
I definitely recommend this Becca Highlighter Palette to all those highlighter lovers out there. If you're new to highlighting, this is the perfect palette to familiar yourself with highlighting. With the combination of colours and their subtleness, you can't really go wrong:) Happy shopping:)
Buy Now: Becca Cosmetics Ocean Jewel Highlighter Palette can be bought from Space NK